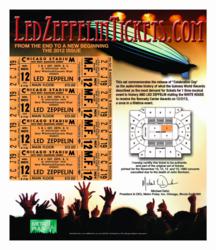 Chicago, IL (PRWEB) November 30, 2012
Ledzeppelintickets.com is proud to offer a one time opportunity to purchase the "From the End to a New Beginning" collectors edition commemorating the celebration of the release of the O2 concert CD/DVD set.
This collector's edition commemorates the history and legacy of Led Zeppelin by highlighting the awarding at the historic Kennedy Center awards and the band's arrival at the White House this weekend. The British band will be receiving awards for their impact on American music and culture on Dec 2. We are proud to offer limited editions of the original tickets purchased way back in 1986 by Metro Pulse Inc. from the Chicago Stadium Corp in custom certificates in single and four ticket sets.
Follow us on Twitter (@ledzeptickets) and Facebook (LedZeppelintickets.com) for updates and more information.