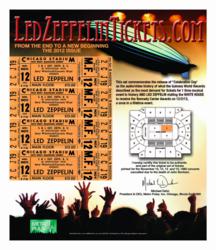 Chicago, IL (PRWEB) December 06, 2012
For those who have a rabid 'Zephead' in the family who desires all things Led Zeppelin and has everything the band has released thru the years, from books to CDs and DVDs and are stymied on what else to buy him for Christmas, consider this. In 2007, 20 million fans vied for 18 thousand seats, a demand that the Guinness World Book of Records awarded as the most demand for a one time musical event in history and a fact the band has touted in their advertisements. Following the historical event, Michael E. Dehn, President of Metro Pulse Inc. and LedZeppelinTickets.com, is also in the record books with his record for "Most Unused Concert Tickets Bought By An Individual."
LedZeppelintickets.com is offering the authentic tickets to the last show the original band would have played at the now demolished but iconic Chicago Stadium in limited editions that celebrate the band's return to the limelight and memorialize the 'reunion concert" that will go down in history as the greatest Rock and Roll comeback ever.
Because collectibles are valued by supply and demand, it is obvious that the dwindling supply of original tickets acquired by Metro Pulse Inc. in 1986 is dwarfed by the escalating demand this band is experiencing well into the 21st century, and that these limited editions will hold their value much better than CDs, books or any other item.
Follow us on Twitter (@ledzeptickets) and Facebook (LedZeppelintickets.com) for updates and more information.
Metro Pulse Inc. and LedZeppelinTickets.com are in no way affiliated with Led Zeppelin or The Chicago Stadium Corporation.