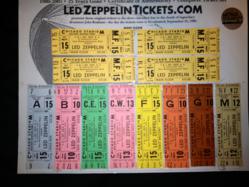 Chicago, IL (PRWEB) February 12, 2013
With Led Zeppelin heralding their return with the release of the 2007 Ahmet Ertegun charity concert now known as 'Celebration Day,' where they note 20 million people vied for 18 thousand seats in their press of the recent CD/DVD release, it is clear that the original tickets that exist for Led Zeppelin at Chicago Stadium in November of 1980 hold a special place in the hearts of fans worldwide, a last link to the original band and the last thing the original band would ever do in the live forum. These complete sets, which have impeccable provenance of their origin available at LedZeppelinTickets.com are only available by phone at 312-520-0204 for the price of $500.00 US each. They will be sold as is, with a hand signed certificate which includes a seating chart of the stadium color coded to highlight the exact locations of the tickets in the set, copy of original Chicago tribune newspaper ad, and complete set of 12 tickets total with a special certificate suitable for mounting (which includes 4 main floor seats and 1 each of all the other locations specially picked to represent at least 1 of each of the concerts originally printed). First come first served, get your piece of rock and roll history today while they last. A limited number of these sets (10 total) are now being sold in a 1 time offering and represent the last sets available in our inventory. This is a phone only sale.
Call Michael E Dehn now at 312-520-0204.