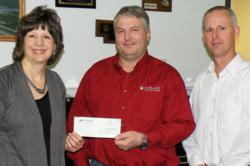 Upgrading technology and generating energy savings is a win-win situation.
Chicago, IL (PRWEB) March 06, 2012
SmartWatt Energy has helped NOR-AM Cold Storage Logistics achieve savings of 218,761 kilowatt hours at their facility in Schuyler, NE after a LED lighting retrofit.
Representatives from Cornhusker Public Power District were at NOR-AM on Tuesday, February 28, 2012 to present a $24,016.08 incentive check for the energy efficient lighting upgrades. The funds are made possible through the EnergyWise program offered by Cornhusker Power partnered with its power supplier, Nebraska Public Power District.
"Upgrading technology and generating energy savings is a win-win situation," said David Johnson, Plant Manager for NOR-AM Cold Storage Logistics. "The improvements are estimated to save more than $14,132 annually, which would pay for the project in 4 years."
SmartWatt Energy's engineering team completed a detailed energy audit (DEA) at the facility, then proposed improvements which included 109 lights being retrofitted, a majority of which were metal halides, to LEDs. Occupancy sensors were added to most of the lights, resulting in additional energy savings. LED lighting technology introduces very little heat into the facility, which is an added benefit for cold storage facilities and results in additional "coincidence cooling."
"Our goal is to support our customers to become more efficient," said Karen Schlautman, Marketing Director for Cornhusker Public Power District. "Lighting technologies developed during the past 10 years can help cut lighting costs 30 to 60 percent, while enhancing lighting quality and reducing environmental impacts."
According to EPA estimates, the energy savings solution designed by SmartWatt Energy for NOR-AM Cold Storage Logistics will save the equivalent of 151 metric tons of Carbon Dioxide, which is equivalent to the carbon sequestered annually by 32.2 acres of pine forests.
ABOUT SMARTWATT ENERGY, INC.
SmartWatt Energy, Inc., is a leading nationwide provider of turnkey energy-efficiency solutions. SmartWatt Energy is dedicated to lowering businesses' operational costs through energy-reduction strategies. SmartWatt Energy provides whole building energy assessments and implements lighting retrofits, VFD upgrades, control system enhancements, ECM upgrades, and more to help commercial, industrial, government and utility customers meet their sustainability goals. SmartWatt Energy's energy-efficiency services include construction-grade energy audits, value-engineered designs, self-performed installations, utility incentive procurement, facilitation of EPAct 2005 tax deductions and maintenance support. For more information, visit http://www.smartwattinc.com.