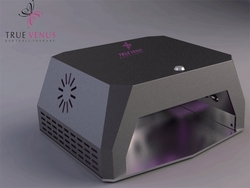 Our tools.Your Art
Essex, MA (PRWEB) July 24, 2010
TRUEVENUS™ (Truevenus.com) with a slogan, Our Tools.Your Art, has announced the launch of its new energy saving LED Nail Curing Lamp, Muse, for nail professionals and home nail care users. The Led curing lamp has been specially designed and introduced for curing gel nail products in seconds and without harm to health.
The Led nail curing lamp is a new invention of long life energy efficient light source that has a long operating life of 20,000 to 35,000 working hours which means they would never need a replacement for long when compared to the number of glass bulbs that would have to be replaced over 4 years. The lamp costs $399.99 and is an ideal choice for long term use saving you big money that would be spent on down business time and replacing bulbs in normal UV lamps.
The Led light is free of toxic substances and is not only safe for use on the nails, but also safe for the environment. The use of UV glass bulbs containing mercury can be quite harmful when disposed off unlike the led technology which is environment friendly. The mercury lamps contain a high dosage of UV rays that can cause skin cell damage while the Led light can help you avoid the damage of skin cancer on the hands as it is near to the visible light like the normal sun light.
The UVA output in this led nail lamp does not fade over time as seen with glass bulbs. This causes less risk of under-curing and also overexposure. The Led lamp also saves the energy and cost to run it. It does not produce heat, and therefore prevents the skin from wrinkling and getting dark.
The Led lamp is exclusively manufactured and distributed by Truevenus.com and is sleek, portable and compact and has a tough exterior that cannot be easily broken. The Led nail lamp is easy to operate and is cold on the exterior making it very safe during use as there are no chances of the hand getting burnt. The unique feature of 'cool to the touch' makes it a preferred choice for most nail care professionals and for home nail care use.
The innovative Led nail curing lamp launched by the company has a quick dry time, curing LED gels within 5-30 seconds and regular nail gel within 30 – 90 seconds which can save a lot of time. The curing time of this Led lamp is about 8 times less than mercury lamps making your work more efficient and faster. The lamp uses UV rays as the main light source which can instantly dry the gel nails without causing any harm to human health.
The new Led lamp works the best with gels from Gel-nails.com, one of the first resellers of this new patented led lamp. It also works with most of the UV gels brands including IBD, Christrio, Balance, Akzentz, Bio sculpture, etc. The company is offering this lamp with a 1 year warranty for any malfunctioning and one can also choose an extended warranty on the product.
Based in the US, TrueVenus™ is a manufacturer and distributor of high quality UV gel nails and LED gel nail products. Truevenus.com specializes in gel nail products, supplying large collection of top quality nail gels and supplemental products to nail professionals and nail salons. Their primary goal is to provide customers with the best possible tools so that they can focus on creating art.
Contact information:
TrueVenus.com
sales(at)truevenus(dot)com
Essex Street, MA, United States
# # #