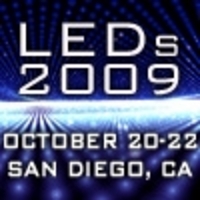 The economy is uncertain, but technology is still rapidly evolving
Portland, ME (PRWEB) October 16, 2009
The exhibit hall at next weeks LEDs 2009 is going to be hopping with excitement as over 700 attendees gather to check out what's new in LEDs. With only a few days left before LEDs 2009 in San Diego, the 10th annual conference will have record attendance and will be one of the most important events of the year!
LEDs 2009 will focus on the commercialization and technology advancement of LEDs in the lighting and display industries. Its aim is to create a platform where science and industry can meet and do business. Exhibit space at IntertechPira's LEDs 2009 conference, taking place October 20-22nd, 2009 at the San Diego Convention Center, in San Diego CA, California, is still available.
"The economy is uncertain, but technology is still rapidly evolving," says Conference Producer Olga Adamovich. "There is no better way to show off your work and reach your target audience than to exhibit at LEDs 2009."

700+participants
38+exhibitors
60+ compelling industry talks
3 days of events
3 intensive preconference summits
1 must-attend event for the LED industry
LEDs 2009 in San Diego had the most comprehensive speaker line-up anywhere in the world. Building on the success of previous years attendees will be provided with more applications and networking than ever before with over 60 talks in 3 days!
To learn more about exhibit space and sponsorship opportunities or to register, visit the event website at http://www.ledsconference.com, or contact Brian Santos at IntertechPira: +1 207 781 9618 or brian.santos(at)pira-international(dot)com.
IntertechPira is a leading information services provider that specializes in giving industry executives strategic information and analyses pertaining to advanced materials and technologies driving the development of innovative products. We serve niche segments of the lighting and displays, high-performance pigments, fillers and fibers, energy and advanced materials, and electronic materials and devices industries by producing international conferences and publishing focused, relevant reports on which actionable business decisions can be based. IntertechPira is a subsidiary of Pira International, with offices in the United Kingdom and Portland, Maine, United States.
###