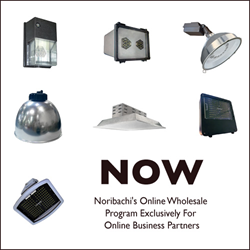 "It's specifically designed to help our online business partners gain traction in the competitive, high performance online LED lighting marketplace," says Hamish Huntly, NOW Program Manager
Harbor City, CA (PRWEB) April 30, 2015
Noribachi, a leading U.S.-based custom LED manufacturer for high output commercial and industrial lighting solutions, is proud to announce the launch of its Noribachi Online Wholesale (NOW) Program.
"Our goal is to provide our customers with a top-notch online buying experience," says James Abraham, Owner, Warehouse Lighting (http://www.warehouse-lighting.com). "Noribachi has made it easy to do just that with the NOW Program and its short product lead time and competitive pricing."
The turnkey NOW Program offers online business partners an exclusive selection of Noribachi's Bespoke Engineered and Specifically Tailored (BEST) LED lighting products in three categories: Cost-Effective, Best Selling and High Performance. Each category features a Noribachi Wallpack, Floodlight, Shoebox and Highbay LED lighting fixture with pre-configured light engines at tiered pricing levels.
The NOW Program also features simple order codes and a 72-hour lead time as well as a NOW Sales Support Team and digital marketing tools to get online business partners up and running quickly.
"We are excited to launch the NOW Program. It's specifically designed to help our online business partners gain traction in the competitive, high performance online LED lighting marketplace," says Hamish Huntly, NOW Program Manager.
"This new selection of Noribachi's top-selling LED products is being offered exclusively to our valued online business partners. It's a great way for us to get our high-performance, cost-effective LED lighting fixtures to end-customers as fast as possible," adds Adam Waxman, NOW Program Co-Manager.
Contact NOW(at)noribachi(dot)com or call 855.283.1100 and ask for a NOW Sales Representative to become an online business partner today. The time is NOW!