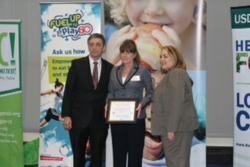 This award is a recognition of the work we have been doing in collaboration with Whitsons to improve the nutritional value of the school meals.
Islandia, NY (PRWEB) May 01, 2013
The USDA established the HealthierUS School Challenge (HUSSC) to recognize schools participating in the National School Lunch Program that create healthier school environments by providing nutrition education, nutritious food and beverage choices, physical education and opportunities for physical activity. This initiative is a main component in First Lady Michelle Obama's "Let's Move!" campaign, an effort to end the childhood obesity epidemic.
This April, four Ledyard elementary schools were awarded the HUSSC Bronze Level distinction: Gales Ferry School, Gallup Hill School, Juliet W. Long School and Ledyard Center School.
This recognition is the product of a joint effort between Ledyard Public Schools and Whitsons School Nutrition, food service providers at Ledyard Public Schools. Darlene McCarthy, Food Service Director at Ledyard; Anne Hogsten, Principal at Gales Ferry and Juliet W. Long schools; Dr. Susan Nash-Ditzel, Principal at Ledyard Center school; and Dr. Pam Austen, Principal at Gallup Hill school, were the main drivers of this initiative along with a review team composed of a cross section of the Ledyard school community: members of the Parent Teacher Organization, teachers and administrators.
In order to qualify for the Bronze award, the elementary schools had to demonstrate they meet all the HUSSC nutritional requirements on an on-going basis, serving a variety of healthier food that appeal to the students, planning meals that emphasize fruits, vegetables, whole grains and fat-free or low-fat milk and milk products; and that include lean proteins and foods low in saturated fats, trans fats, cholesterol, salt (sodium), and added sugars. Furthermore, the schools were required to prove their compliance with the physical activity and nutrition education criteria of the HUSSC according to age group.
With this award, Ledyard Public Schools reiterates its commitment to promoting a healthy school environment for its students. According to Michael Graner, Superintendent at Ledyard Public Schools, "This award is a recognition of the work we have been doing in collaboration with Whitsons to improve the nutritional value of the school meals. The award also acknowledges the efforts of the school district staff to promote wellness activities at all of our schools as part of a balanced healthy lifestyle."
The award ceremony took place on April 26th. A representative from the USDA presented a HealthierUS Bronze School banner, a commemorative plaque and a check for $500 to the schools.
# # #
Whitsons Culinary Group provides a wide range of highly customized dining services to public schools, corporations and institutions, with a strong focus on nutritious, high quality menus made from fresh, wholesome ingredients. Whitsons has a long and proud history of excellence and growth since 1979 and currently ranks the 18th largest dining company in the United States (Food Management magazine, September 2012). Whitsons' scope of ¬¬expertise and services extends to: emergency dining, residential and healthcare dining, prepared meals, and school dining and services.