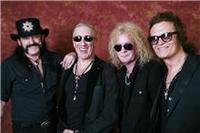 Tribute Bands Rocking Up Sales On I Tunes
Las Vegas, NV (PRWEB) October 2, 2010
The 2010 VEGAS ROCKS! Magazine awards held on August 22, 2010 was just the icing on the cake for Led Zeppelin tribute band, Led Zepagain.
This year marked the very beginning of the VEGAS ROCKS! Magazine Awards. This night brings rock n' roll legends of past and recent together to focus on the music. This event featured celebrities including Dee Snider (Twisted Sister),Flavor Flav, Lemmy Kilmister (Motorhead), James Kottak (The Scorpions), Athena Lee (Tommy Lee's Sister), Glenn Hughes ( Deep Purple),Paul, Shortino (Rough Cut/ Quiet Riot), Jake E. Lee (Ozzy), Ron Keel (Keel), Jimmy Crespo (Aerosmith), Otis Day (Otis Day and The Knights from "Animal House" Fame), Nick Oshiro (Static X), Tony Franklin (The Firm), Chris Frazier (Whitesnake), Kerry Simon (Celebrity Chef), and Mario Barth (Celebrity Tattoo Artist). As a tribute band, Led Zepagain found themselves in great company.
Held in the Elvis Showroom at the Las Vegas Hilton, this night is truly a night for rock n' roll to remember; especially for members of Led Zepagain. Led Zepagain performed in this venue one week earlier to a sold out crowd.
A band knows they are good when they can sell out a club on a Monday night. A band knows they are great when they can sell over a half a million downloads on iTunes.
When fans asked for a CD of their music after a show, Led Zepagain would simply send their fans to the local record store and tell them to pick up the real thing. One thing led to another and Led Zepagain found themselves in a recording studio then selling over a half million downloads on iTunes, which caught the attention of CNBC earlier this month with a special "Tribute Bands and the secret Profits". http://www.cnbc.com/id/38990581 The band was also featured in an AOL "Tribute Bands Rocking Up Sales on iTunes" http://www.aolnews.com/weird-news/article/tribute-bands-rocking-up-sales-on-itunes/19525470
Jimmy Page sums up Led Zepagain best when he said, "It's amazing how much you [Led Zepagain] sound like us. You must have grown up on this because you were inside the music,
and you paid attention to detail in your presentation…I can tell you guys really love the music!"
Look for Led Zepagain on tour or contact us for more information. http://www.zepagain.com/
About Led Zepagain. Led Zepagain is Southern California's Led Zeppelin Tribute Band. Performing at venues across the west coast, Led Zepagain has taken the art of a tribute band to an entirely new level. They have received numerous awards including LA's Best Tribute Band and were included in LA's Top 100 Unsigned Acts.
About VEGAS ROCKS! Magazine Awards. Held for the first time this year, the VEGAS ROCKS! Magazine Awards focus on rock n' roll of the past and present with the best in the business.
###