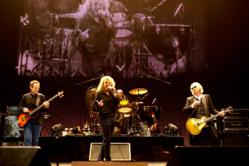 There's going to be another frenzy for all things Led Zeppelin once the film is out.
Melbourne, Victoria (PRWEB) October 19, 2012
This week's announcement by The Rolling Stone of "Celebration Day," the Led Zeppelin concert film from their one-night-only gig in 2007, hitting the theatres on October 17th has not only created a burst of excitement amongst the fans who missed out, but has peaked sales and demand for Led Zeppelin products at online music store Planet 13.
The Led Zeppelin concert was filmed during the highly anticipated one-off concert in London, on 10 December 2007. The show was a tribute concert for Ahmet Ertegun, founder of Atlantic Records, and was their first headlining gig in 27 years.
"Just the fact Led Zeppelin were performing once again was enough to knock fans on their sides," says Shawn Scott, life-long musician and owner of band merchandise store Planet 13, of the 2007 reunion concert, "in the near-three decades of them being dormant, very few bands achieved the legendary status they did. Zeppelin's music was revolutionary, and no one's come close to matching them since."
An astonishing 20 million people tried to get tickets to the show in 2007, but only 18,000 fans were lucky enough score a spot at the venue, which makes this film a dream come true for those who missed out. Shawn further adds, "Imagine the frenzy that ensued once the tickets were released. Less than 1/10th of a percent of fans were going to get a seat, and because almost everyone who wanted to go, didn't get to go, there's an insatiable demand to see this film."
"Celebration Day" will hit 1,500 silver screens on October 17th, with a wider variety of audio and video formats being unleashed a month later on November 19th. "There's going to be another frenzy for all things Led Zeppelin once the film is out," comments Shawn, "we're already experiencing higher sales for Led Zeppelin products and are bracing for more demand as the holiday season approaches."
The 16-song concert set features the surviving members of Led Zeppelin rocking it out in true form, including vocalist Robert Plant, guitarist Jimmy Page and bassist Paul Jones. Son of their late drummer John Bonham, Jason Bonham, proudly filled in on drums.
"I appreciate what the band has done for our industry," remarks Shawn, "and being a fan myself, I understand how important it is to see this Led Zeppelin concert film – even if it's only on the big screen - it's probably the closest we're going to get to seeing them live." The "Celebration Day" set list ran for over 2 hours, including popular songs such as 'Stairway to Heaven' and 'Whole Lotta Love'.
"Everything Led Zeppelin does, and has done, becomes huge," laughs Shawn, "and this film release will be just the same. We plan to stock the film for our customers once it becomes available on DVD."
Led Zeppelin's "Celebration Day" film hit theatres this week, and the trailer can be viewed here: http://youtu.be/VbusDxLekPQ
A bit about Planet 13™
Planet 13™ was conceived and created in 2004 by Shawn Scott, front man of the once-popular Melbourne-based glam/punk band Voodoo Lovecats. His online store Planet 13 features an extensive range of fully-licensed entertainment and band merchandise, and prides themselves on providing superior products and customer service.