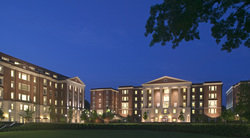 A building owner gets lasting value from a network of participants who work together to determine environmentally responsible practices for building a facility, and later become actual stakeholders in the facility's operation and occupancy
Nashville, Tenn. (Vocus) January 29, 2009
Vanderbilt University continues to go for the gold with its latest LEED® (Leadership in Energy and Environmental Design) Gold certification of three new residence halls. This brings the total to seven LEED-certified buildings at The Commons, the university's new campus for first-year students.
"These seven LEED-certified buildings form one of the largest collections planned on a single campus site in the southeastern United States," said Keith Loiseau, a LEED-accredited architect at the university and project manager for The Commons Center.
A project team of Nashville-based building, design and construction companies worked closely to develop a unique design strategy that considers sustainable policy making and future on-campus growth. This team includes Vanderbilt's Campus Planning and Construction department, American Constructors; Street Dixon Rick Architecture, PLC; and SSRCx, the commissioning subsidiary of Smith Seckman Reid, Inc.
"A building owner gets lasting value from a network of participants who work together to determine environmentally responsible practices for building a facility, and later become actual stakeholders in the facility's operation and occupancy," Tony Fort, Vanderbilt director of architecture and construction, said.
"It forces a very useful community fabric to get woven in the process that raises everyone's awareness of the sustainable operational practices that will positively affect the occupants and surrounding environment for many years to come," Andrea George, Vanderbilt director of sustainability, said.
LEED is the U.S. Green Building Council's leading-edge system for designing and constructing a sustainable, energy-efficient and high-performing building. LEED-Gold certification is the third most aggressive level of LEED certification, above Silver and standard certification. Combined, the residence halls are predicted to reduce energy-use by 15 percent.
"Because this was a highly collaborative building, design and construction process, we were able to achieve even greater success than originally planned," said Eric Sheffer, LEED facilitation project manager for SSRCx. "As we all work to incorporate environmentally friendly practices into our daily lives, the value of creating a sustainable living-learning community will have a lasting impact for generations to come."
The three residence halls - Stambaugh, Hank Ingram and Murray Houses - total more than 175,000-square-feet and cost approximately $40 million. As a part of its LEED-Gold certification, Vanderbilt achieved Innovation in Design points for:

free ride to work program with Nashville's Metro Transit Authority
on-campus biodiesel vehicles
green housekeeping program
utilization of 26.4 percent recycled content in construction
diversion of over 74 percent of demolition and construction waste from landfills
approximately 53 percent of building materials were purchased regionally
"With a cohesive team effort, we achieved success in a variety of areas including the amount of construction waste that we were able to recycle," said Joe Braden, project manager and LEED AP for American Constructors Inc. "The team diverted more than 2,600 tons of waste from landfills, leaving us just a fraction of a point away from receiving the maximum credit toward the LEED-Gold certification. By utilizing this team approach, we were able to exceed our goals with minimal added cost and effort."
Vanderbilt also sought to align design elements for each residence hall with its overall goal of creating a unique learning experience for students.
"We had a lot of fun researching and exploring new products and materials," said Baird Dixon, AIA, LEED-AP, principal of Street Dixon Rick Architecture, PLC. "Because these are student-centered buildings, we tried to incorporate subtle, educational components in terms of the materials we chose. For example, in the main entrance lobby, we used a terrazzo floor product that utilizes recycled glass in place of the normal marble chips. It has beautiful color, is sustainable and will last 80 years. The students also enjoy telling everyone the floor is made out of old beer bottles."
Crawford, Sutherland and Gillette Houses, as well as The Commons Center, have previously attained LEED certification. The Commons Center, which serves as the community square for The Commons, is a place to dine, study and hear live performances. It also includes a fitness facility and other services.
These three residence halls are LEED-Silver certified and The Commons Center is LEED-Gold certified, making it the first higher-education building and the second overall to obtain this designation in Tennessee.
For the most recent phase of construction, Barge Cauthen & Associates provided civil engineering services and Smith Seckman Reid, Inc. provided mechanical, electrical and plumbing (MEP) engineering services for the project.
About Vanderbilt University
Vanderbilt University is a private research university of approximately 6,500 undergraduates and 5,300 graduate and professional students. Founded in 1873, the University comprises 10 schools, a public policy institute, a distinguished medical center and The Freedom Forum First Amendment Center. Vanderbilt, ranked as one of the nation's top universities, offers undergraduate programs in the liberal arts and sciences, engineering, music, education and human development, and a full range of graduate and professional degrees.
# # #