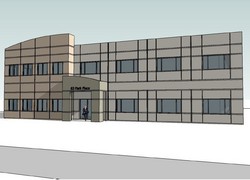 It's rewarding to be at the cutting edge of green building in our community
Clearwater, Fla. (PRWEB) October 15, 2008
West Central Florida's Hallmark Development continues its leadership in LEED-registered green building with the launch of Phase II development at Offices at Park Place at 83 Park Place Blvd. in Clearwater, Fla. Hallmark Development has pre-leased 1/3 of the new construction building and assembled the project team, including general contractors The Murray Company, Collman and Karsky Architects, and civil engineering firm Gulf Coast Engineering.
Hallmark Development celebrated the grand opening of the first Offices at Park Place LEED-Gold project in July of this year. The building, which is expected to receive its official LEED certification within the next 30 days, is the new international headquarters for TUI Marine. It has been selected as the site for the October 28 Annual Member Meeting of the US Green Building Council Florida Gulf Coast Chapter.
"It's rewarding to be at the cutting edge of green building in our community," said Paul Engelhardt, vice president of Hallmark Development. "We've operated here for over 40 years, and we consider it an honor to find creative solutions to protect our environment."
The site for the second building at Offices at Park Place exceeds local zoning requirements for open space by 163% and includes an irrigation system that uses 75.8% less water than a baseline property. Its parking lot will include more than a dozen reserved parking spaces for high efficiency, low emission vehicles.
Plans for the building itself include energy systems to reduce consumption by 24% and dual-flush water closets and lavatory fixtures with automatic shut off, which combined will use 40% less water. In addition, renewable energy has been purchased to offset 70% of electrical use over two years. Over 75% of the wood products used in the building will be certified through the Forest Stewardship Council's Principles and Criteria, and over 83% of construction debris will be recycled rather than sent to landfills.
As part of its commitment to green goals, Hallmark will measure and evaluate the building's energy use over one year to verify that systems are performing as designed. In addition, a third party will test and confirm that concentration levels are acceptable for formaldehyde, particulates (PM-10), total volatile organic compounds, and carbon monoxide.
LEED is a third-party certification program and the nationally accepted benchmark for the design, construction and operation of high performance green buildings. LEED rates buildings in categories for sustainable sites, water efficiency, energy and atmosphere, materials and resources, and indoor environmental quality.
About Hallmark Development of Florida, Inc.
Hallmark Development of Florida is a diversified real estate development firm founded 43 years ago. It has developed roughly 630,000 square feet of office and service-center space on Florida's Gulf Coast. It owns and operates the Airport Business Center with nearly 160 tenants near the St. Petersburg/Clearwater International Airport on 140th Avenue North in Clearwater. In addition, Hallmark manages several other commercial properties, including Roosevelt Lakes Office Park in the Feather Sound area and Enterprise Office Center in the Countryside area, both in Pinellas County. For more information on Hallmark Development, Inc., call (727) 539-7002 or visit http://www.HallmarkDevelopment.net.
###