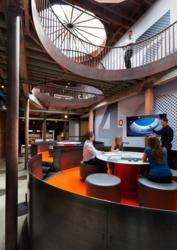 We wanted to focus on solutions that feature the building's historic character without compromising the need for a 21st century work environment
San Diego, CA (PRWEB) April 17, 2012
If a space built circa 1924 can achieve one of today's highest green building certifications, it's safe to say, almost any place can. Just in time for Earth Week, San Diego design firm LPA Inc. celebrates Leadership in Energy and Environmental Design (LEED) Gold certification of their East Village office, in the historic Wonder Bread building on 14th street. A space that demonstrates "practicing what you preach," the studio showcases some of today's coolest sustainable design features—that any business can implement, to save resources, increase collaboration among employees, and foster an environment of productivity—all in a healthy, eco-friendly office space.
"We wanted to demonstrate to our clients that sustainability can be achieved with limited resources, and is not determined by scope or program," says LPA Principal Dave Gilmore. "To prove this, we created a space that saves energy, uses less water and creates a healthy indoor air environment on a limited budget, while touching the space lightly."
According to Gilmore, the Wonder Bread building has good bones. "We wanted to focus on solutions that featured the building's historic character without compromising the need for a 21st century work environment," he continues.
Standout Features:

Former grain silos have been turned into "collaboration pods," which use the openings of the roof as skylights that immerse the space with natural light.
Operable windows allow daylight and natural breezes to fill the office, and employees enjoy a sliding barn door which opens to views of Petco Park.
Cold, rolled steel is used as a design element in both the exterior office sign and collaboration pods, in an effort to be consistent with the building's architectural elements.
The concrete flooring was kept as is, including manhole covers, and additional materials were only installed where absolutely necessary.
Track lighting was reused, with new and more energy efficient fixtures, to avoid changing the entire lighting system.
Workstations were designed to increase communication and collaboration—there are no private offices. "Throughout LPA, everyone from the CEO on down sits in collaborative workstations made of recycled contents, which have been purchased locally and blanket wrapped to avoid packaging waste," adds Gilmore. Plus, tables and workstations can be written on, for brainstorming or sketching during impromptu meetings, and is easily removable.
Additional sustainable features include: use of products with recycled content, low-VOC paints and products, energy-efficient lighting and occupancy sensor controls, green housekeeping practices, and in-house recycling of paper, aluminum and plastic.
In fact, as a company, LPA implements a 100% paper recycling policy of white paper.

Through use of recycled paper, the company saved 1,818 trees, 776,800 gallons of waste water, 86,096 pounds of solid waste, and 169,384 pounds of carbon, last year.*
By setting printers to automatically print double-sided, the company saved another 718 trees, 304,800 gallons of waste water, 33,796 pounds of solid waste, and 66,384 pounds of carbon.*
By completely eliminating use of plastic (PVC) binders, and converting to recycled binders, LPA saved 1,444 kilowatt-hour (kWH) of energy, 4.1 barrels of oil, and 7.5 cubic yards of landfill space, last year.*
For more about LPA Inc. in San Diego, contact Principal Dave Gilmore at dgilmore[at]lpainc[dot]com.
LPA Inc.
131 14th Street
San Diego, CA 92101
Online Photo Gallery
About LPA Inc.
Founded in 1965, LPA has more than 200 employees with offices in Irvine, Roseville, and San Diego, Calif. The firm provides services in architecture, sustainability, planning, interior design, landscape architecture, engineering, and graphics. There is no "Sustainability Director," at LPA. Instead, more than 80% of the professionals are LEED accredited, including the Human Resources Director, CFO, and several other support staff. With extensive experience in public and private architecture, LPA designs a diversity of facilities that span from K-12 schools, colleges and universities, to corporate and civic establishments. More than 500 major design awards attest to LPA's commitment to design excellence. For more information, visit LPAinc.com.
About LEED
LEED is an internationally recognized green building certification system, providing third-party verification that a building or community was designed and built using strategies aimed at improving performance across all the metrics that matter most: energy savings, water efficiency, CO2 emissions reduction, improved indoor environmental quality, and stewardship of resources and sensitivity to their impacts. Developed by the U.S. Green Building Council (USGBC), LEED provides building owners and operators a concise framework for identifying and implementing practical and measurable green building design, construction, and operations & maintenance solutions. For more information, visit usgbc.org/LEED.
These figures are compiled from research of LPA's printing volumes for 2011, conducted by ProGroup. Additional documentation used to compile these statistics is available. For additional information, contact ProGroup President, Cindy Kennedy, at (949) 748-5400.