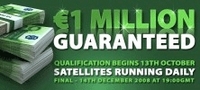 London (PRWEB) December 9, 2008
Rogue Trader Nick Leeson is back - and this time he's determined to take down the €1000+50 CelebPoker €1M Guaranteed, which runs on 14th December 2008.
Undoubtedly Rogue Trader Nick Lesson will be his stress-management lessons he has learned in the past during the CelebPoker €1Million Guaranteed. Having survived personal heartbreaks and having triumphed over cancer, Leeson is an inspiration to all and should prove to be a formidable opponent on the tables. He remains confident he can give the other Poker Players in the tournament a run for their money.
CelebPoker.com thought it was time for something different. So we have added excitement and extra cash to the already huge €1 Million Guaranteed Tournament on December 14th at 19:00 GMT! The infamous rogue trader and celebrity, Nick Leeson, contacted us to confirm that he was pretty excited about the €1 Million Guaranteed Tournament and will be playing for the huge prize pool. We decided it would be great fun to give you a chance to win some extra by knocking him out of this game.
1000 Bounty Hunter - Nick Leeson
€1000 Cash Bounty has been placed on Nick Leesons Head.. CelebPoker.com on December 14th at 19:00 GMT!
About CelebPoker.com
Poker Room Online - CelebPoker.com CelebPoker.com prides its self for running the best Multi Table Games you will find on any Internet Poker Games Room. With regular freeze outs as well as a large selection of Daily MTT and STT Poker Tournaments with Prize pools ranging from €1000 Up To €1 Million. Play daily Freeroll Games most with No Requirements and the best Poker League and Promotions available online
###