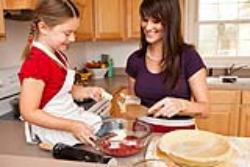 Trying to open a can with a right-handed can opener is like trying to tie your shoes backwards!... Don P.
San Francisco, CA (Vocus/PRWEB) December 01, 2010
Lots of lefties are serious cooks. Cooking is creating, and left-handers are known to be creative. But no one explained this connection to kitchen and utensil designers until recently. With the current trend towards ergonomic and specialized kitchenware, some manufacturers have finally noticed the ways in which right-handed kitchen utensils DO NOT WORK for left-handers.
Leftyslefthanded.com asked the members of its 3000+- email subscriber list what they'd most like to see in a Left-Handed Kitchen. The hands down winner was a left-handed can opener. Over half the responses mentioned can openers – hand operated can openers turn clockwise, hard for a lefty, and they move clockwise around the lid of the can, compounding the problem.
The best way for a right-hander to understand why this is so hard is just to try it. Try using a typical can opener with the left hand. It's not only difficult, but it can also be dangerous because most can openers leave sharp edges.
Lefty's carries not only several left-handed can openers, but also an ambidextrous safety can opener which eliminates sharp edges.
Corkscrews pose a similar problem – they're deigned to rotate clockwise. Lefties often deal with this, by holding the corkscrew still and turning the bottle counterclockwise!
Measuring cups are classic examples of right-handed design. They are marked on the outside to be read when held in the right hand. For a lefty, the markings are on the far side and unreadable. Lefty's has several measuring cups marked for lefties - either on the right side of the cup or on both sides.
Consider spatulas, spoons, and wok tools – the best contemporary designs are angled so that a right- hander can scrape the corners of the pan. Because angled tips make these tools so much more functional, Lefty's carries a variety of styles angled for left-handed use.
What about pour spouts on pans? Many sauce pans now have this very useful feature which allows the cook to have much more control when pouring liquid from a sauce or sauté pan. But the spouts are always on the LEFT side – just where it is most useful for a right-hander. Lefty's has searched out a line of double pour spout pans which work for everyone!
There are dozens more products- left-handed knives, oven mitts, peelers, cake servers, and kitchen shears – which make the kitchen lefty friendly and safe.
Mass produced electrical appliances for lefties, like refrigerators with the freezer on the right and appliances with the controls on the left, are not on the horizon. But a host of hand-operated tools are available. Where a good selection of Left-Handed Kitchen Tools wasn't commercially available, Lefty's commissioned custom designs.
Like a group of strangers who find themselves together on an uninhabited island, these tools come from a range of industries and specialized manufacturers. Lefty's has products that serve every kind of cooking – from left-handed sushi knives and wok tools to BBQ mitts. Lefty's has created custom designs in bamboo tools, oven mitts, can openers, corkscrews, and measuring cups, in addition to searching out utensils from all over the world. The very popular dribble mug only works for left-handers! Where there's an ambidextrous solution, Lefty's carries that as well, because a left-hander's kitchen is used by right-handers too.
Visit Lefty's stores to try these items out at Pier 39, San Francisco, or The Marketplace at Downtown Disney, Walt Disney World Resort, Lake Buena Vista, FL, or order directly from the website.
Most left-handers have adapted. Adult lefties are used to twisting the measuring cup around backwards to read it, and turning the bottle when opening wine. It's a right-handed world, and lefties have learned how to operate things that don't work well for them.
Cooking is a pleasure, an art, a pastime, and a necessity. We do it every day, often many times a day. Like other new ergonomic tools, left-handed kitchen utensils are great pleasure to use, and make an extremely thoughtful gift.
# # #