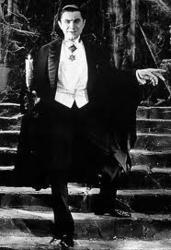 San Francisco, CA (PRWEB) October 24, 2012
What do Dracula and King Kong have in common with zombies, witches, and devils throughout the history of folklore? They're left-handed! From the ghoulish Count in the 1931 film Dracula, to the giant ape who knocked out T. Rex with his left hook in the 1933 King Kong, the history of movies is loaded with terrifying lefties.
Left-handedness has long been associated with the devil. The Bible, as well as countless superstitions, holds that left-handers are evil, dark, and devilish. Consider the well-known folktale in which the devil lurks over one's left shoulder, so that throwing salt over that shoulder wards off evil. During the era of witch-hunting, left-handedness was literally seen as a sign that a woman was a witch, or as evidence of dishonesty. According to Wikipedia, Black Magic is sometimes referred to as "the left hand path".
In fact, the word sinister is derived from the Latin "sinistra", meaning left. Similar undesirable meanings adhere to words associated with left-handedness in dozens of languages.
A look through the folklore surrounding semi-mortal creatures, especially those deriving from Eastern Europe, turns up dozens of references to vampires, zombies, and ghouls of all types being left-handed (as we saw in Dracula).
The effects of these beliefs linger today. Many adult lefties were "turned" as children by institutions like the Catholic Church, which fought left-handedness in their schools, forcing natural lefties to write and function right-handed.
Of course left-handers are not in any way evil. Like anyone who is "different", lefties have historically been misunderstood; their differences have been characterized as negative across many cultures. Right-handers actually can't use their left hands, so they think lefties are slightly unnatural. In today's world, where differences are often valued rather than suspected, left-handedness can be an advantage.
At thelefthandstore.com, lefties can find products that work naturally for them. Lefties inhabit a right-handed world, and struggle in ways right-handers don't even suspect. Thelefthandstore.com is devoted to helping lefties of all ages live more comfortable and productive lives, and has the world's largest selection of left-handed tools and gifts. With stores in Pier 39 in San Francisco, The Marketplace at Downtown Disney in Walt Disney World, FL, and Old Town Kissimmee, FL.
Lefties can celebrate Halloween by following left-handed tradition; donning the scariest, most ghoulish costumes, then frightening poor righties with their gruesome looks and terrifying left-handed gestures.