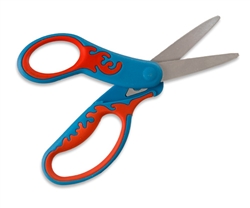 San Francisco, CA (PRWEB) November 20, 2011
Lefty's the Left Hand Store has created the World's Biggest Selection of True Left-Handed Scissors and Shears. With 46 different Left-Handed Scissors, Lefty's has at least one scissor for every cutting need, as well as for every age from the smallest Left-handed Kids to Lefty Adults. From economical left-handed scissors for general household use, to highly specialized sewing and hair-cutting shears; from left-handed cooking shears to left-handed bandage shears; Lefty's the Left Hand Store has an incredible selection.
Scissors which claim to be ambidextrous, to work for both left and right-handed people, are not truly left-handed - and will not function well for left-handed users. True left-handed scissors are engineered with the blades reversed so the left-handed blade is on top. This construction requires a different manufacturing process, making these left-handed scissors much harder to find. With the left blade on top, lefties can see what they are cutting, and the motion of the scissors is natural. While many older lefties have adapted, and can use right-handed scissors for most things, even they can cut far more accurately with left-handed scissors.
Lefties are routinely discouraged from becoming surgeons because the specialized cutting tools are not available left-handed, and they cannot use right-handed scissors with the degree of precision needed for operating.
For left-handed kids just learning fine motor skills, left-handed scissors can make an enormous difference - leading to far earlier and easier learning to cut and a series of other skills. Lefty kids often struggle at school learning to both write and cut, and may dislike school for that reason. Giving kids left-handed school supplies and scissors can dramatically improve their school experience, and give their confidence an enormous boost at a critical developmental period.
Lefty's carries many highly ergonomic scissors, with grips molded for left-handed cutting, finely balanced and carefully designed for a variety of functions. Too, certain left-handed scissors are useful for righties - Lefty's Left/Right Manicure Set has scissors fur use in each hand as it trims the nails on the other. Left-handed bandage shears are popular with left-handed nurses, but also come in handy for anyone with a right arm injury or weakness.
In addition to its huge selection of left-handed scissors, Lefty's the Left Hand Store also carries six styles of left-handed pruners and trimmers, and many other tools. Many lefties love to garden.These left-handed garden tools make gardening work less of a strain, and far more enjoyable.
Left-handed scissors are the single most requested item by lefties - and they are almost impossible for right-handers to operate. Many left-handers have no idea that such a range of left-handed scissors is available. They are beyond thrilled to discover the selection of high quality, ergonomic and specialized left-handed scissors at Lefty's.
Left-handed scissors make an especially thoughtful and personal left-handed gift for lefties who sew, garden, cook, or enjoy many types of crafts. Explore the World's Most Interesting Selection of Left-Handed Scissors online at http://www.leftysthelefthandstore.com, or visit the stores at Pier 39, San Francisco; the Marketplace at Downtown Disney, Walt Disney World Resorts, Orlando, FL; or Old Town Kissimmee, FL.
###