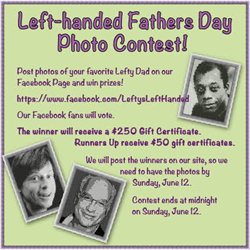 San Francisco, CA (PRWEB) June 08, 2016
Lefty's the Left Hand Store announces a contest for the best photos of left-handed dads. Photos should be posted on Lefty's Facebook page, and those with the most likes will be the winners. The Grand Prize will be a $250 gift certificate, and the runners up will receive $50 gift certificates.
Lefty's wants to celebrate left-handed fathers! There are far more lefty dads than moms, for reasons no one exactly understands. As kids, they are often told they are clumsy, and may lack confidence in school.
But once they grow up, lefties have often dominated their fields. Five out of the last six U. S. Presidents have been left-handed. Many of the greatest tech innovators - Steve Jobs and Bill Gates and in fact the entire original Apple design team, for example - have been southpaws. Dozens of greatest military and political leaders in history - including Alexander the Great, Charlemagne, and Napoleon - have wielded their swords in their left hands. And of course lefties are legendary in the worlds of music, art and sports.
Lefties have to learn to live in a right-handed world. It doesn't come naturally. Can openers, scissors, and even doorknobs are designed to work in reverse for them. Does this make lefties more innovative? It certainly makes them more self-reliant.
Lefty's Facebook fans have a great time posting photos of their friends and family, and then voting on the best ones. Visit the Facebook page to see the entrants to date.
Visit Lefty's retail stores in Pier 39, San Francisco, and at Downtown Disney in Walt Disney World Resorts, Orlando, FL.