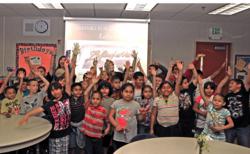 I May be Left-Handed, but I'm Always Right.
San Francisco, CA (PRWEB) May 21, 2013
Lefty's San Francisco teamed with left-handed high school students to introduce young lefties to the facts about being left-handed, and to teach them survival skills for coping with a right-handed world. Exchange students Zulfiya Urunova from Tajikistan and Caglar Avci from Turkey visited 3 elementary schools in Visalia, CA, to talk with groups of young lefties. Their goal was to help young lefties by teaching them some basic techniques for coping with a right-handed world.
Lefty's San Francisco sponsored the project, contributing a nice surprise for the youngsters - a pair of left-handed scissors, and a left-handed pen for each lefty youngster. Usually, both elementary school teachers and the standard desks are right-handed, making it especially difficult for lefties to learn the complicated motor skills required to write. If schools also lack left-handed scissors and other aids such as pencils with easy grips and left-handed writing guides, lefty kids may fall behind and do poorly in school.
Lefty's San Francisco and thelefthandstore.com have received dozens of letters and emails from grateful parents of young left-handed kids whose lives have been significantly improved by having tools and school supplies designed especially for them. Kids who hated school have learned confidence and begun to enjoy learning and socializing.
Kids being kids, the right-handed majority will always tease their left-handed classmates. But armed with their own tools and a little knowledge about special left-handed skills and left-handed heroes, little lefties can learn to take pride in being different.
Still young enough to remember their own struggles in elementary school, high school students Zulfiya and Caglar developed a simple and effective presentation for groups of young lefties. Conceived as a project connected to Global Awareness Day for these 3 lucky schools in Visalia, CA, the pair of lefty high school students made sure that this group of young lefties will have both tools and knowledge about their special wiring. Whenever they are teased, these kids now know the perfect comeback - Lefty's San Francisco's best-selling saying, "I May Be Left-Handed, but I'm Always Right!"