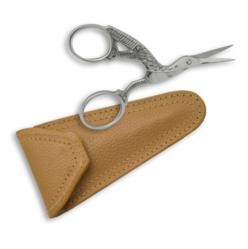 San Francisco, CA (PRWEB) December 31, 2011
Leftysthelefthandstore.com is excited to announce the creation of a beautiful new left-handed stork shaped embroidery scissor. The design is based on a French midwives' tool which evolved into an elegant, terrifically useful, scissor.
In the 1800's, French midwives serving the well-to-do used a remarkable, stork-shaped clamp to tie off the umbilical cords of newborns. Some especially intricate designs show a newborn concealed in the stork's wings. Because the mid-wives kept these with their sewing kits, the design eventually evolved into the stork-shaped scissor, which may also have been used to cut the umbilical cords. This traditional French design spread to England and other parts of Europe in the 19th century.
Lefty's new scissor may well be the first left-handed scissor produced with the stork design. Lefty's has included the stork scissor in several Left-Handed Scissor Gift Sets. The Deluxe Left-Handed Sewing Scissor Set includes both the heavier 10" Tesouro professional left-handed tailor's scissor and the nimble lightweight ultra-ergonomic Premax left-handed dressmaker's schssor, along with east-to-use thread nippers and a durable plastic left-handed tailor's tape, along with the stork scissor.
The Basic Four Piece Left-handed Sewing Scissor Set includes the 8-1/2" Mundial left-handed dressmaker shears, along with the left-handed stork shaped embroidery scissor, the nippers, and left-handed tailor's tape. The Four-Piece Household Left-Handed Scissors Set includes the sturdy 8-1/2" Clauss Left-handed kitchen shear, useful for all harder cutting jobs, along with 2 pair of Lefty's very popular 8.5" left-handed household scissors with ergonomic orange plastic handles, and a pair of the stork scissor.
In a handsome, custom leather case, the left-handed stork embroidery scissor is an excellent and thoughtful gift for any lefty adult, either as a single item or in one of the scissor sets above.
Shop for left-handed gifts in person at Lefty's on Pier 39 in San Francisco, in the Marketplace, Downtown Disney, Walt Disney World Resorts in Orlando, FL, or Old Town, Kissimee, FL. , or online at leftysthelefthandstore.com.. Lefty's has the world's largest and most interesting selection of left-handed scissors and gifts.
###