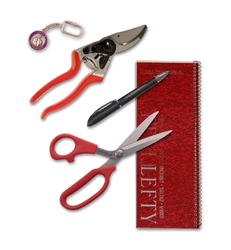 San Francisco, CA (PRWEB) April 30, 2012
Lefty's has assembled a remarkable group of gifts for left-handed mothers just in time for Mother's Day. A special Mother's Day offer for mother's who sew includes two unique and essential scissors. From now through Mother's Day, May 13, purchase a beautiful boxed Professional Tailor's Shear, and receive 25% off plus a free pair of Lefty's charming and extremely useful custom Left-Handed stork embroidery scissors.
Children of left-handed mother's are fortunate indeed. Because far fewer women than men are lefties, these children are relatively uncommon. Even better, left-handed mothers are more likely than left-handed dads to pass the left-handed gene along to their kids.
Do left-handers make better mothers? There's a good case to be made that lefties have more fun - they're creative, funny, love to make things, and can be very empathetic - able to read body language far better than righties. Melissa Roth's book, The Left Stuff, details these and many other traits which are stronger among the ranks of lefties. Because they've been discriminated against for all their lives, they understand frustration and have learned strategies for conquering it.
And lefties are rarely dull. While classic right-handed traits may lead to greater parental stability, left-handed mothers can be especially interesting and fun, even more kid-like.
Lefty's the Left Hand Store has pulled together unique and memorable gifts for moms of all types and interests. For mothers who sew, the Deluxe five Piece Left-Handed Sewing Set includes 3 essential scissors along with nippers and a sturdy left-handed tailor's tape. For more outdoorsy moms who enjoy gardening, the Deluxe Left-Handed Gardening Set includes both a left-handed pruner by the manufacturer most preferred by professional gardeners, the Felco, but also left-handed florist shears, and a left-handed gardening book with one of the very popular quick drying Jetstream pens.
Kitchens provide a particularly frustrating setting for lefties. For Mom's who love to cook, both Left-Handed Master Chef 14 Piece Kitchen Set and the more affordable New 7 Piece Bamboo Utensil Set include the tools which make the most difference to left-handed cooks. Both include Lefty's custom Left-Handed Bamboo Tool Set. Working moms will find the beautiful Embossed Left-Handed Leather Portfolios, available in a selection of colors and designs, a useful and elegant gift. Lefty's handsome Left-handed Watch with a Brown Leather Strap will impress moms who have style.
For any left-handed mother, spouse, or friend, lefties has the world's most interesting and extensive selection of left-handed tools and gifts. Visit Lefty's San Francisco at Pier 39, or Lefty's in The Marketplace at Downtown Disney, Walt Disney World Resort in Orlando to try out these items first hand, or tour thelefthandstore.com for the fullest information on-line.