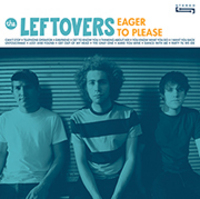 I knew that 'Eager To Please' was going to be a great album when I first heard the demos, but it wasn't until we got in the studio that I realized how amazing the songs really were
Torrance, CA (Vocus) September 24, 2009
Channeling The Beatles and the Beach Boys with the power pop of Elvis Costello and The Romantics all while keeping the upbeat energy of the Ramones, The Leftovers hit the road in support of their Crappy Records release, Eager To Please. Portland Maine's most ambitious post punk act, The Leftovers, will be playing a ton of dates this fall in support of their latest release Eager To Please. They'll be supporting the legendary pop punk act, The Queers.
The Leftovers recent full length Eager To Please was produced by Linus Dotson (of Hollywood) and features Kim Shattuck of The Muffs, Brett Anderson of The Donnas, Parry Gripp from Nerf Herder, Coz Canler from the Romantics and Jon Rubin of the Rubinoos.
"I knew that 'Eager To Please' was going to be a great album when I first heard the demos, but it wasn't until we got in the studio that I realized how amazing the songs really were," said Dotson. "Kurt Baker has a songwriting maturity that is way beyond his years and is able to channel classic artists like the Beach Boys, Elvis Costello and the Beatles, while still having a unique style all of his own. The Leftovers' live show is simply mindblowing and they have a fun and endearing charisma that has been lacking from rock'n'roll for a long time!"
The Leftovers formed in 2002 and road tested a sound over 350 dates and two continents that successfully combines the classic vibe of The Beatles and the Beach Boys with the power pop of Elvis Costello, The Romantics and the Rubinoos, while keeping the upbeat energy of the Ramones and The Queers. The Leftovers songwriting skills and powerful live show caught the attention of Crappy Records as well as pop punk cult icons Ben Weasel (of Screeching Weasel fame) and Larry Livermore (founder of Lookout Records). The Leftovers new label, Crappy Records, was formed by label executive Carl Caprioglio, producer Linus of Hollywood and Bowling for Soup frontman Jaret Reddick, with the new label distributed by the Fontana/Universal label Oglio Records.
"The Leftovers are a freakin' breath of fresh air," said Jaret Reddick. "They are fun, fascinating and rockin'! And most of all, chicks dig 'em!"
The Leftovers are Kurt Baker (Bass/Vocals), Andrew Rice (Guitar/Vocals), Adam Woronoff (Drums) and Matt Anderson (Guitar).
The Leftovers Eager To Please Tour Dates
Sept 24 Jacksonville, FL - Jack Rabbits
Sept 25 Tampa, FL - Orpheum
Sept 26 Miami, FL - Respectable St
Sept 27 Orlando, FL - The Social
Sept 28 Tallahassee, FL - Engine Room
Sept 29 Mobile, AL - Alabama Music Box
Sept 30 Houston, TX - Walter's
Oct 1 Corpus Christi, TX - House of Rock
Oct 2 San Antonio, TX - Rock Bottom
Oct 3 Austin, TX - Red 7
Oct 5 Albuquerque, NM - Launchpad
Oct 6 Tempe, AZ - Club House
Oct 7 Los Angeles, CA - Knitting Factory
Oct 8 Las Vegas, NV - Dive Bar
Oct 9 Denver, CO - Moe's BBQ
Oct 11 St. Louis, MO - Illegal Tone
Nov 27 Spartanburg, SC - Ground Zero
Nov 28 Charlotte, NC - Milestone
Nov 29 Chapel Hill, NC - Local 506
Dec 1 Baltimore, MD - Otto Bar
Dec 2 Philadelphia, PA - Barbary
Dec 3 Brooklyn, NY - Southpaw
Dec 4 Cambridge, MA - TT The Bears
Dec 5 Hoboken, NJ - Maxwell's
Dec 6 Pittsburgh, PA - 31st St Pub
Dec 7 Cleveland, OH - Peabody's
Dec 8 Columbus, OH - Bernie's
Dec 9 Detroit, MI - Magic Stick
Dec 10 Chicago, IL - Reggie's
Dec 11 Madison, WI - The Frequency
Dec 12 Indianapolis, IN - Melody Inn
Visit the band sites for more info! The Leftovers Website, facebook.com/theleftovers and myspace.com/theleftovers
###