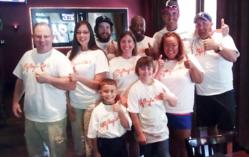 Man I just wish we were all lefty. That would confuse the heck out of the opposition. Kris Norman and Josh
San Francisco, CA (PRWEB) August 01, 2012
Lefty's San Francisco and thelefthandstore.com field a left-handed softball team - Lefty's - in Boise, ID! When it comes to baseball, left-handers have the advantage. Twenty-five percent of all major league baseball players are lefties, though true lefties make up only ten percent of the population. That means that left-handed baseball players are 2.5 times as good as right-handed players, according to Washington University aerospace engineer David Peters, who has studied the physical dynamics of the left-handed advantage in baseball.
Spatial dimensions of the game favor lefties. When left-handers swing, they are already in motion towards first base (making the distance 5' less than for righties); stadium design favors lefties (the distance to the wall in left field is often shorter); left-handed pitchers can see first base easily, and can hold men on base better; and left-handed hitters can see the right-handed pitchers' balls better because they don't need to look over their shoulders.
Another explanation, offered by Melissa Roth in her fascinating book,The Left Stuff, has to do with left-handed reflexes being more accurate because our ape ancestors used their right hands to hang from trees and their left to grab bugs and other moving critters from the air and water.For lefties, used to being told they are clumsy and awkward, baseball is the perfect revenge.
When Coach Pink Pinkney contacted thelefthandstore.com with his idea of forming an all lefty coed baseball team, there was great excitement and instant support. His story goes back to 2010, when Pink and some of his lefty baseball buddies, all players on recreational teams around Boise, had a brainstorm. While relaxing after a game, Kris Norman and Josh suggested that they field an all left-handed team. "I just wish we were all lefties. That would confuse the heck out of the opposition". They could just keep the left-handed batters coming, one after another, so the predominantly right-handed opposing pitchers would not know what hit them!
Pink rounded up left-handed players from the regular Boise players, and formed his men's team, CHSR (Can't Hit S*... Right) to play in tournaments, outside the regular game schedule, as all the players are on other teams. There were no light-weight players here. In 2010, they won their first tournament, and placed 2nd and 3rd in two others. In 2011, the team placed in three tournaments, though the results were not so spectacular as in 2010.
For 2012, Coach Pink decided to make things more interesting by fielding a coed team. He put out the word to all the women's and coed regular teams, and assembled a fine group of players - the Lefty's Team! The team placed 4th out of 8 in their first softball tournament, the Tdub Classic, in Boise, on June 23 and 24. With at least two more tournaments to go, in August and September, thelefthandstore.com anticipates an exciting end of summer and fall season.
Come to Lefty's San Francisco on Pier 39 on August 13, International Left-Handers' Day, to participate in games and win prizes. For ball players, Lefty's sells left-handed baseball mitts, baseballs, hats, as well as an extensive collection of T-shirts. In addition to the website, thelefthandstore.com, Lefty's has two stores in the Orlando, FL, area, one at The Marketplace, Downtown Disney, Walt Disney World Resorts, Inc., and another at Old Town Kissimmee.