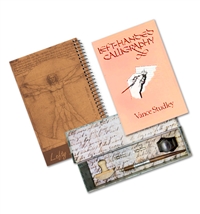 San Francisco, CA (PRWEB) November 17, 2011
Just in time for the Holidays, leftyslefthanded.com introduces calligraphy sets for left-handers. At the request of its customers, Lefty's designed two elegant calligraphy sets, handsomely boxed with left-handed nibs in three sizes, real India ink, and an attractive long, hardwood nib holder. Now lefties can express their creativity by making beautiful handwritten Holiday Invitations and Cards.
These left-handed calligraphy sets make excellent gifts for left-handers, and may be purchased with an accompanying instruction book and one of Lefty's custom left-handed sketchbooks.
Calligraphy is the art of beautiful writing. An ancient art, it was used by monks and scribes to record all important texts prior to the invention of the printing press. Today calligraphy is often employed for elegant announcements and invitations, as well as for attractive small signs and hand-made products of many sorts.
Traditional right-handed calligraphy pens absolutely cannot be used left-handed. The beauty of the script comes in controlling the width of the line, and the nibs are cut at an angle to permit this. Left-handed nibs are angled the opposite way from right-handed nibs, and the pens must be held in a particular position so the hand won't smudge the writing.
Learning calligraphy requires a little practice. But after only two or three sessions with Vance Studley's left-handed calligraphy instruction book, or practicing with videos on YouTube, beginning calligraphers will be able to create their own artistic notes and cards.
These lovely sets are packaged in handsome boxes covered in photographs of handwritten documents, designed to be kept to store the calligraphy tools. Because lefties tend to be creative and artistic, they are often drawn to calligraphy and want to try it out. As true India ink comes with each set of holder and nibs, these sets have everything the beginning calligrapher needs to develop their own Beautiful Writing.
Sets may be purchased online at lefyslefthanded.com, as well as in Lefty's stores at Pier 39, San Francisco, the Marketplace at Downtown Disney, Walt Disney World Resorts in Orlando, FL, and Old Town Kissimmee, FL.
###