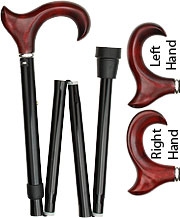 San Francisco, CA (PRWEB) March 29, 2012
Almost all right-handers experience right side weakness at some time in their life. From carpal tunnel to a broken arm, from a sprained wrist to a more permanent injury, righties with injuries can benefit greatly from well-designed ergonomic left-handed tools and aids.
Thelefthandstore.com has a huge selection of left-handed tools and aids designed to be especially easy for new or temporary left-handers to operate. Physical therapists can assist right-handers in finding and learning to use a wide array of left-handed items, enabling new or temporary lefties to function well, and to avoid further injury.
Some of the most useful left-handed items are left-handed mice (many people with carpal tunnel or who are heavy computer users opt for having both a left and right mouse), left-handed Visio pens which allow writers to see what they are writing, ultra-ergonomic folding left-handed canes, and left-handed scissors of all types. Countless other items can make the transition to left-handedness easier - left-handed measuring cups and mugs, left-handed can openers and kitchen tools, left-handed notebooks and left-handed pens in many styles. These tools can literally be lifesavers for people who suddenly need to learn to use their left hands effectively.
Thelefthandstore.com specializes in tools to make life easier and more convenient (and more fun) for left-handers, even if they are adults new to the ranks of lefties. For right-handers with serious injuries, Lefty's custom left-handed writing and left-handed shoe tying training sets may be useful. For cooks, left-handed spatulas and cooking mitts may be hugely helpful. For handy types, left-handed measuring tapes and box cutters are very popular. And for gardeners, Lefty's has a wonderful and extensive collection of left-handed gardening tools.
Visit Lefty's San Francisco at Pier 39, or Lefty's in The Marketplace at Downtown Disney, Walt Disney World Resort in Orlando to try out these items first hand, or tour thelefthandstore.com for the fullest information on-line.