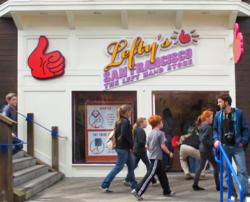 We stumbled on your store while on vacation in SF. I couldn't believe the variety of products.... Thank you Lefty's for meeting the needs of those who are 'right minded' - Jennifer B., Miliken, CO
San Francisco, CA (Vocus/PRWEB) March 23, 2011
Before Lefty's San Francisco opened in 2008, the owners wondered if there were enough left-handed products, or left-handed people who wanted left-handed products, to have a successful store on San Francisco's Pier 39. The moment it opened, the store was instantly popular, its tiny space often so crowded no one else could come in the door. When a much larger space nearby became available, Lefty's jumped at the chance to triple its size.
Lefty's has commissioned and designed many products of its own. The owners have literally searched the world over for left-handed writing tools and office supplies, products to help lefty kids in school, as well as left-handed cooking, gardening, and other tools. Lefty's has assembled an unrivaled selection of left-handed scissors, as well as T-shirts and mugs printed with funny left-handed sayings.
In the new store, Lefty's has room to display its terrific collection of hard to find items like left-handed notebooks, backwards watches, and left-handed baseball mitts. Demonstration areas for left-handed scissors, pens, and pencils, as well as left-handed computer mice, are permanent. Specialty items like left-handed can openers are featured in a changing demonstration area. Large drawings illustrate how left-handed products are designed to operate, and how they differ from their right-handed versions.
Left-handers are thrilled to discover that someone has finally understood what they need. At 10-15% of the population, lefties are possibly the world's largest and most silent minority. They've had to adapt to a right-handed world in countless ways. Though still a small store, Lefty's San Francisco has the world's largest selection of left-handed gifts and merchandise, and now there's room to see it!
# # #