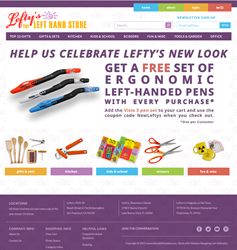 San Francisco, CA (PRWEB) January 14, 2015
Lefty's' the Left Hand Store launches a colorful, modern new website. Designed for mobile devices as well as for desktops, Lefty's new site presents the store's unique left-handed products in an elegantly user friendly format.Playful colors match the store's highly creative product lines. Well illustrated and easy to navigate, Lefty's new site makes their remarkable products very accessible.
Lefty's has by far the world's largest selection of products designed for left-handers. Since 2007, Lefty's has researched and refined designs for over 75 custom products, and has assembled these with the best products made by others.
With retail stores located in Walt Disney World Resorts in Florida and PIer 39 in San Francisco, Lefty's products include fun items for tourists as well as extremely useful tools and gifts. Lefty's left-handed dribble mugs, which drip liquid onto the drinker when used in the right hand, and extensive selection of left-handed T shirts, are very popular gifts for tourists to bring home.
With over 35 different left-handed scissors, and dozens of kitchen tools, Lefty's has solved the common left-handed complaints around the house. Their extensive line of notebooks, portfolios, calendars, and pens are a huge success with both offices workers and students. Lefty's writing, coloring, cutting, eating, and shoe tying tools for young kids are literally life changing for the youngest lefties.
With the new website design, the range of Lefty's products are easy to find and read about. customer reviews attest to Lefty's terrific customer service and quick shipping. Lefty's looks forward to hearing responses to the site from new and old customers, and is especially glad to bring out their new sophisticated mobile design.