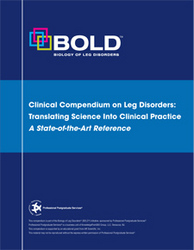 Secaucus, NJ (PRWEB) February 26, 2008
The Biology of Leg Disorders (BOLD®) educational initiative is proud to present the Clinical Compendium on Leg Disorders--Translating Science Into Clinical Practice: A State-of-the-Art Reference on LegDisorders.org. This state-of-the-art reference tool is a consolidated body of knowledge on the broad spectrum of leg disorders and related comorbidities, specially created for primary-care physicians, nurse practitioners, pharmacists, and the various medical specialists and other healthcare providers who treat patients with leg disorders. The expert BOLD® faculty has contributed its insight in the form of clinical commentaries and "pearls" for the clinician to consider and apply to practice. For common leg disorders, such as restless legs syndrome (RLS) and peripheral arterial disease (PAD), a summary of the disease state, overviews of clinically relevant literature, and expert commentary are featured. For rare disorders, a disease state summary is provided.
The common leg disorders included in this compendium are; Restless Legs Syndrome (RLS), Periodic Leg Movement Disorder (PLMD), Peripheral Arterial disease (PAD), Rheumatoid Arthritis, Peripheral Neuropathy, Stenosis, Scoliosis, Sciatica, Ankylosing spondylitis, Deep Vein Thrombosis (DVT), Nocturnal Leg Cramps, Gout, Chronic Low Back Pain, Complex Regional Pain Syndrome, Vasculitis, Fibromyalgia, Osteoarthritis, Edema and Tendinopathy. The rare disorders are; Piriformis Syndrome, Dystonia, Pseudo Kaposi's Sarcoma, Klippel - Trenaunay Syndrome, Parkes Weber Syndrome, Cystic Adventitial, Psoriatic Arthritis, Neuroma, Hereditary Spastic Paraplegia, Venous Stasis Ulcers, Persistent Sciatic Artery, Microvenular Hemangioma, Repetitive Motion Disorders, Meralgia Paraesthetica, Neuroleptic-induced akathisia, Ehlers-Danlos Syndrome, Popliteal Entrapment and Compartment Syndrome
The complete and up-to-date Compendium will be compiled through March 2008. There will be updates to the compendium throughout the year.
Bonus to registered members of LegDisorders.org! Registered members can create customized versions of the compendium. Add individual or entire sections to "My Compendium" and your customized version(s) will be available for downloading or printing at your leisure!
LegDisorders.org is the official website of the Biology of Leg Disorders (BOLD®) educational initiative. BOLD brings a first-of-its-kind educational paradigm to leg disorders, structuring programs across a spectrum of diseases. Classification that differentiates on the basis of pathophysiologic origin (ie, cardiovascular, neurologic, musculoskeletal) offers healthcare professionals comprehensive, cross-disciplinary education. Over the coming months, PCPs, geriatricians, OB/GYNs, nurse practitioners, and pharmacists will participate in programs in this format via live meetings, web and satellite conferences, and enduring materials that are both printed and virtual. BOLD is truly a multimedia campaign with unprecedented outreach to clinicians. Biology of Leg Disorders (BOLD®) educational initiative, LegDisorders.org and the Clinical Compendium on Leg Disorders--Translating Science Into Clinical Practice: A State-of-the-Art Reference was developed with funding through an educational grant from AR Scientific, Inc.
Professional Postgraduate Services® (PPS)
Professional Postgraduate Services® (PPS) develops medical education activities designed to meet the needs of practicing physicians. PPS, working with medical leaders, designs and implements effective programs to meet specific educational objectives. Our overall goal is to conduct activities that will modify physician behavior in such a way as to have a positive impact on patient care and quality of life. Program formats are based on careful evaluation of message complexity, goals, audience needs, and budget, always taking advantage of proven training methodologies and interactivity. PPS develops medical education programs consistent with the Essentials and Standards of the Accreditation Council for Continuing Medical Education as well as guidelines established by the AMA, PhRMA, and FDA. PPS is a business unit of KnowledgePoint360 Group LLC, a leading healthcare information company.
###