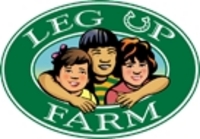 It's a dream come true for us and we're excited that we can share this with families in the region.
Shrewsbury, PA (PRWEB) October 14, 2010
Leg Up Farm (LUF) will hold a grand opening celebration from noon-4 p.m. on Saturday, Oct. 16, at its new facility in Mount Wolf, Pa., just north of York. In attendance at the festivities will be Jim Cawley, candidate for Lieutenant Governor.
"We've been elated at the community's response and reception to Leg Up Farm," says founder Louie Castriota Jr. Leg Up Farm is designed as a comprehensive, trans-disciplinary center that offers a range of speech, physical and occupational therapy – among other vital services - for children with special needs. This includes those who have, or are at increased risk for having a chronic physical, developmental, behavioral, or emotional condition and who also require health and related services of a type or amount beyond that required by children generally. Diagnoses might include cerebral palsy, autism, ADHD, Down syndrome, intellectual disabilities, learning disabilities, traumatic brain injuries, and pervasive development delay.
Saturday's festivities will include the first-ever viewing of the center's new indoor horse arena/barn, an opportunity to meet LUF staff and tour the center, and the unveiling of the center's official mascot. We dare you to guess what animal will become the official mascot for LUF and we think you'll be surprised and entertained by the antics of Tank, Dominic, Isaiah, Orange Blossom, Periwinkle, Maaack, Chester and Silver. The youngest – two alpacas - are anxiously awaiting the results of a naming competition. Come on out, join the fun and celebrate this new community resource. Enjoy ice cream from Bruster's, pastries from Olive Garden and chips from Martin's.
"Our indoor horse arena is now officially open for use and also new to the site are 10 animals including horses, goats, donkeys and alpacas that will make Leg Up Farm their official home and become a part of the children's therapeutic program. The best part," Castriota adds, "is that kids have so much fun they don't realize it's part of their therapy plan. It's a dream come true for us and we're excited that we can share this with families in the region."
The center opened its doors in April and drew nearly 300 families in its first six months of operation. LUF is expected to serve more than 1,000 children and their families within its first three years. Nationwide, an estimated 18 million children need this specialized care; and Pennsylvania claims a rate higher than the national average. Local families currently have to drive out of the region for the care they need and/or utilize multiple centers. Facilities that provide therapies for children with special needs often have waiting lists or parents must juggle appointments at multiple sites.
The project is the vision of Castriota and his wife, Laurie, who 13 years ago wanted to give back to the community in a way that would share their love of horses with children with special needs. Several months later, they'd learn their daughter had mitochondrial disease and the scope of the project – through experience - grew to become what is now a first-of-its-kind center that offers families a multitude of services under one roof – offering a stimulating environment for children and a relaxing environment for parents and siblings.
LUF is designed not only to provide individualized therapy but a destination for the entire family, where critical services are provided more conveniently, more centrally and in a more comprehensive and complete array where children can thrive and families can bond. A popular sitting area allows patrons to share personal experiences, watch their children mount and ride a horse and take in an expansive view of the outdoors. The 50,000-square-foot facility also utilizes nature prominently and in the future will feature two dozen sensory gardens and walking trails as well as an interactive therapy space called Matthews Town.
Leg Up Farm is also currently a contender for $250,000 in Pepsi's global texting challenge. If funded, the project would finance the addition of therapeutic sensory gardens, a walking path and recreational area for children and their families, and a respite area for assistance dogs. For more information, visit http://www.refresheverything.com/legupfarm.
Leg Up Farm's current services include:

Physical therapy
Occupational therapy
Speech-language therapy
Therapeutic recreation
Caregiver support groups
Paws for Reading Program
Advocacy services
Educational programs
Farming adventures
Social networking
Summer day camps
Developmental play groups
Leg Up Farm's future services include:
Dance/music therapy
Aquatic therapy
Massage therapy
Dietary consultation
Resource library
Creative arts therapy
Integrative daycare
Temporary respite care
Support groups
Horticultural therapies
It's rare for such a range of needed services to be readily available, rarer still under one roof and in such an all-in-one setting. Construction has been undertaken in multiple phases with funding from various sources including a $1 million state grant, a $5.6 million loan, $1.7 million in donations and the remainder through a $5 million capital campaign scheduled for 2011. Phase 1 included the main building, Phase 2 included the indoor horse arena/barn and the final phases will incorporate a therapeutic pool, community center as well as critical outdoor space.
For more information, visit the Leg Up Farm website at http://legupfarm.org/ or call Louie Castriota at 717-870-3293.
###