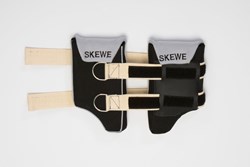 When the leg muscles are weak and you start rehabilitation training, you can use SKEWE to start slowly gaining your strength back.
London, UK (PRWEB) January 22, 2014
Nejc Mramor and Klemen Bizjak, a team of young engineers from Slovenija, have just announced the launch of a fundraiser on the Indiegogo website. The two hope to raise enough money to help produce their SKEWE new weights designs that is done differently from traditional leg weights.
As the two engineers explained in the article that accompanies their Indiegogo fundraising campaign, SKEWE are exchangeable leg weights for enchanting every sports activity. This includes everything from overall fitness to martial arts, paragliding and rehabilitation uses.
The full kit of SKEWE leg weights will include two pairs of three different weights each, in 0.5, 0.75 and 1.0 kg sizes. This translates to a total of 12 different insert combination possibilities.
The SKEWE exchangeable leg weights will be ideal for runners, who can choose the best weight of the inserts to help improve their training time. As a bonus, instead of having to purchase new ankle weights every time a runner is ready to increase his or her resistance, the athlete merely needs to change the SKEWE inserts.
The same is true for those who like to get out and walk or hike; people can select the most comfortable insert weights that are best for them and their physical condition.
Mramor and Bizjak noted that there are plenty of other advantages to using SKEWE inserts; for example, bicyclists can get a more targeted training of their hamstring muscles, and people who practice Pilates will get a bigger pull when they are working out. Marital arts fans can use them to help with their leg training as well as their speed and strength, and paragliders can even utilize SKEWE to help achieve the perfect gliding angle and the maximum flying speed.
Even people who are recovering from a sports or other injury will be able to safely and effectively use the SKEWE leg weights to help with their progress.
"When the leg muscles are weak and you start rehabilitation training, you can use SKEWE to start slowly gaining your strength back," Mramor said, adding that everyone can combine the inserts for their own personalized training and/or recovery needs.
Anybody who would like to learn more about the SKEWE exchangeable leg weights is welcome to visit the Indiegogo website at any time; there, they can read more about the innovative weights and how donors will be rewarded for their contributions. People can also follow the progress of the product by "liking" the SKEWE-Facebook page.
About SKEWE Exchangeable Leg Weights:
SKEWE Exchangeable Leg Weights are the brainchild of Nejc Mramor and Klemen Bizjak, two engineers from Slovenija. The weights can be used during many types of physical fitness routines as well as during rehabilitation. The engineers recently launched a fundraiser on Indiegogo to raise money to produce the handmade weights. For more information, please visit http://igg.me/p/637022/x/1161154.