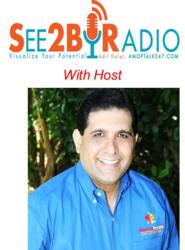 The true one percent transform their "dash into an infinity", and leave legacies well beyond their physical existence.
Austin, TX (PRWEB) September 13, 2012
As part of his 5-episode 'Live a Legacy, Leave a Legacy' series, acclaimed host, author and entrepreneur, Adil Dalal, aims to enrich listeners' lives by taking them through a step-by-step process on creating a personal mission statement. The newest installment in the Legacy series will provide an exclusive look at using the Power of Visualization™ towards achieving a fulfilling, purpose-driven life. "Designing a Gold Standard Legacy, using a Personal Vision & Mission Statement" will air September 14, 2012 on See2Bradio.com starting 11:30 AM CT.
While companies all over the globe proudly boast their mission or vision statements for customers, shareholders, or employees to see, very few individuals identify their own mission statement in life. The mission statement is a constant reminder of purpose, and Dalal notes that "Ninety-nine percent of the people think of legacy as an after-thought or believe that it happens by accident. The secret of the one percent is that they believe in their true potential, begin with the end in mind by visualizing a personal vision and mission and execute it against all odds." The true one percent are those he describes as having turned their "dash into an infinity", whose legacies carry on well beyond their physical existence. Dalal says, "We all can learn the art of the 1% by designing, living and leaving our very own legacy!"
Dalal's first two sessions of the 'Live a Legacy, Leave a Legacy' series have focused on the importance of living a legacy-driven life, and has discussed both modern and ancient heroes who have unleashed their own potential, whether they had to overcome adversity or simply maximized their own abilities to become great through their dedication. Audience members from around the globe have lauded the series for its stirring message. S. Unwala commented, "Adil gets you thinking and inspires you to follow your dream and your goal. I want to leave my legacy stamp on this world."
Michael Rivera, an operations manager at a commercial bank and Principal of Rivera Group International says, "Having known and worked with Adil, his commitment to others and the achievement of their life's purpose is genuine and heartfelt. His radio show serves as a breath of fresh air; and his practical approach to getting life results is something that many of us would otherwise spend an entire lifetime searching for."
The fulfillment of creating the personal mission statement will take place over two episodes, airing on September 14, 2012 and September 21, 2012. The fifth and the final part "Now, Go Live Your Legacy!" of the series, will air on Sept 28, 2012 on See2BRadio.com.
For more information please visit Pinnacle Process Solutions, Intl.®, LLC at http://www.pinnacleprocess.com or contact Pinnacle Process Solutions at info(at)pinnacleprocess(dot)com or at (512) 212-1166.