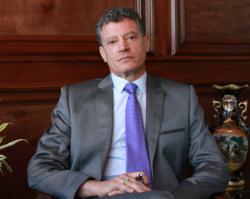 David's presentation was just amazing! It was informative, fun, funny, helpful and loaded with immediately useful information. It was motivational … just wonderful!
Los Angeles, CA (PRWEB) June 20, 2012
Renowned Los Angeles personal injury attorney David Drexler delivered a keynote address to the membership of the American Board of Professional Liability Attorneys (ABPLA) during the influential group's annual conference held in San Diego from June 7 to June 9, 2012. Drexler, a double-boarded Diplomate who serves on the ABPLA Board of Directors as California Chair, spoke on "Preserving Appellate Rights at Trial", while combining humor, anecdotes and Power Point slides in a presentation that was memorable and dramatic.
"Preserving appellate rights means that every trial lawyer – through every moment of pretrial, trial and post trial – must maintain hyperawareness on behalf of their clients and assert appropriate objections, supported by legal authorities every step of the way," said Drexler. Drexler, who was nominated as California Trial Attorney of the year, has tried over 200 cases, including many successful appeals.
"Any trial lawyer knows what those appellate rights are," Drexler explained, "but there is a protocol for assuring that those rights are protected and preserved through each phase of trial. The art of preserving appellate rights so clients have success at the Appellate level, following either a bad ruling by a Judge or defending an appellate attack from a good result or verdict, is like playing three dimensional chess. A trial lawyer needs to be in the present, doing everything necessary to win the case at trial, but also with an eye to the future, where the Court of Appeals will be reviewing the record on Appeal to determine whether there is ground to overturn an adverse ruling or judgment."
The APBLA, a national organization comprised of leading trial advocates in the area of professional negligence law, is accredited by the American Bar Association to board certify attorneys in the areas of medical and legal malpractice. Drexler has the unique distinction of being Nationally Board Certified as a Professional Liability Trial Attorney Specialist in both legal and medical malpractice cases.
Drexler's presentation was well received, moving several prominent trial attorneys to offer praise. John F. Romano, a nationally recognized civil trial attorney from Lake Worth, Florida remarked, "David's presentation was just amazing! It was informative, fun, funny, helpful and loaded with immediately useful information. It was motivational … just wonderful!"
After the presentation William F. McMurry, ABPLA President, complemented David's energy and passion for justice, commending the hard work it takes to fight and win appeals against long shot odds, commenting, "David blew us away. He is a lion."
"I'm delighted that so many extremely qualified, top notch trial attorneys from around the country enjoyed the presentation and took something from it," concluded Drexler. "As nationally board certified Diplomates and Trial Attorney Specialists, these prominent medical and legal malpractice attorneys are well versed in every aspect of trial and appellate rights. But it is always useful to take the opportunity to listen to someone summarize it in an all-encompassing presentation."
"I think Bob Marley said it concisely when he admonished us to 'Get up. Stand up. Stand up for your rights.'"