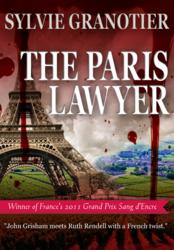 "Sylvie Granotier skillfully leads her readers from red herring to lie, building suspense with impressive meticulousness."– Le Monde des Livres
New York, NY (PRWEB) September 27, 2012
"Beautifully written and elegantly structured," is how award-winning author Thomas H. Cook, describes The Paris Lawyer. The author, Sylvie Granotier, an acclaimed French master of crime fiction, is now available in English for the first time.
One reviewer wrote, "Everything in this book—the plot, the atmosphere, the characters, and the style—is perfectly mastered from beginning to end."
Le French Book kicked off its crime fiction imprint with this skillful mix of psychological thriller and legal procedural. Sylvie Granotier is a seasoned author and screenwriter, with fourteen novels to her name. This is her latest novel and it won the 2011 Sang d'Encre crime fiction award. The action takes place between sophisticated Paris and a village in one of France's remotest areas, La Creuse, where the beautiful countryside holds dark secrets.
"If we love it, we'll translate it. I really wanted to translate this book myself," says Le French Book founder, translator and editor Anne Trager. "It's a gripping and powerful whodunit that is also about reconciliation with those we have lost."
The main character witnessed her mother's murder when she was just a child. Now, Catherine Monsigny is an ambitious rookie attorney in modern-day Paris, working for a well-known firm. Her latest case rockets her back to her past. This fast-paced story follows Catherine's determined search for the truth in both her case and her own life. Who can she believe? And can you ever escape from your past? The story twists and turns, combining subtle psychological insight with detailed sense of place.
This tale is "skillfully told and will keep you in suspense to the very end," says the international bestselling author Patricia MacDonald.
Le French book is also running sweepstakes to win a trip to France and French wine in connection with the release of this book.
The Paris Lawyer, by Sylvie Granotier; translated by Anne Trager
$7.99—published by Le French Book
ISBN: 978-0-9853206-0-7 (Kindle)/978-0-9853206-1-4 (epub)
First published in French (La Rigole du Diable, Éditions Albin Michel, Paris)
Direct-to-digital translation; ebook exclusive
Available in all major ebook outlets.
Full press kit available here.
About Le French Book
Le French Book is a New York-based independent, digital-first publisher specialized in great reads from France. It was founded in December 2011 because, as founder Anne Trager says, "The recent explosion in e-reader ownership provides a perfect medium to introduce readers to some of these fantastic French authors." Anne has lived in France more than half of her life, has 25 years of experience in the translation business and 15 in publishing. Co-founder Fabrice Neuman is French and the company's tech consultant. He is one of France's foremost proponents of e-books and one of the first French journalists to write about them in the mid-1990s. The core team also includes the American translation editor Amy Richards, who is based in Ohio and has a long, award-winning career in writing and editing.