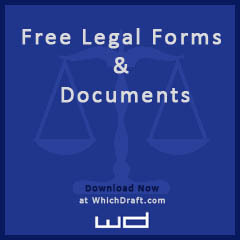 Our mission is to simplify the world of contracts by educating and empowering our users to learn about and create sophisticated contracts for free
Montclair, NJ (PRWEB) September 12, 2009
"Our mission is to simplify the world of contracts by educating and empowering our users to learn about and create sophisticated contracts for free," says Jason Mark Anderman, President of WhichDraft.com. "To our knowledge, no other site provides free contract content coupled with automatic contract assembly at no charge. Now everyone can access the same sophisticated legal documents used by major corporations to better manage their lawyers, handle simple legal matters themselves, and reduce those highly expensive legal fees."
WhichDraft.com's Wizard is Key to Seamless Contract Generation
By navigating a simple question and answer wizard, users can click what information they want to include in their contracts. They can also obtain a clear explanation of each legal issue and understand how the components of a deal fit together. All official contracts are written by experienced lawyers who have worked at some of the best law firms in the United States. As a result, the contracts generated encompass a wide range of legal issues and key contract clauses that only senior attorneys are privy to. WhichDraft.com uses its database to build customized contracts which can then be edited, downloaded, emailed, printed, shared, or saved on the site. WhichDraft.com also provides multiple version tracking, comparison red lining, and online collaboration tools.
WhichDraft.com is of tremendous value to startups, freelancers and small businesses who normally can't afford legal services and often use poor quality contracts scavenged from the Internet or office supply stores. WhichDraft.com's contracts include confidentiality agreements, amendments, bills of sale, consulting agreements, engagement letters, maintenance agreements, manufacturing agreements, purchase agreements, sales agreements, software licenses, statements of work and term sheets. Additional legal forms and documents are added regularly.
About WhichDraft.com
Established in 2009, WhichDraft.com is a legal resource for free legal forms and business documents. WhichDraft.com's tools allow users to easily create, collaborate and execute legal forms and documents, thereby simplifying the contract execution process. WhichDraft.com is not a substitute for an attorney nor does it provide any legal advice.
# # #