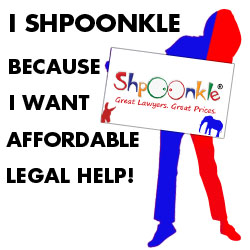 Competitive bidding has taken hold in the legal services niche.
Miami, FL (PRWEB) October 15, 2012
The legal reverse auction Shpoonkle is responding to consumer needs for alternative fees. This need is reflected in a recent study released by Lexis Nexis "Speaking Different Languages: Alternative Fee Arrangements for Law Firms and Legal Departments," which summarizes that the need for alternative fee arrangements fueled by the stagnant economy has led to a new sense of urgency for legal consumers both corporate and personal. Some of the interesting findings in the study are that most firms are slowly adopting discounted pricing. The report also noted that competitive bidding has taken hold in the legal services niche. Shpoonkle.com success as an online competitive bidding service proves that the model does work.
The report also noted "In most areas of business, seeking bids on work is common. And although bidding is not the norm in legal work, it has become an increasingly popular way for legal departments to request outside counsel legal work. One-fifth of legal departments said that they had instituted a "reverse auction" or competitive bidding on high-volume and repetitive work. Just over a third of the firms said that they had participated in such a bidding process." The legal firm or departments are using this process, because it just makes sense and cuts costs.
If legal firms and departments are utilizing reverse auction, then why isn't this a suitable solution for legal consumers? Shpoonkle is a viable solution, and demonstrates that it is possible to obtain a high quality and cost effective solution for consumer legal services. The services delivered on the legal reverse auction successfully align the client's perception of value with legal representation. Some advocates of change and Alternative Fees feel that the billable hour gives inefficiency too much opportunity at the client's expense. Legal services performed by an attorney are similar to other professional services, and are subject to the "law of supply and demand" like any other commodity. Shpoonkle allows the consumer to find the best service at the lowest available price.
Many traditionalists or generational perspectives are comfortable with older billing schema, and are slow to change. Unfortunately, this crawl towards change, impacts the consumer and ultimately the economy. It has become an imperative based on economic facts, that the movement towards competitive legal solutions is required. Shpoonkle is the catalyst for discounted quality services for consumers and cementing its place in the future of legal services.
About Shpoonkle
Shpoonkle promotes advocacy to their members with free services. Shpoonkle is an innovative free web site that allows clients to confidentially post a legal case on line where attorneys bid for that case. The client has the option to pick any of the bidders and can communicate privately with the attorneys. Shpoonkle and Shpoonkle Canada are either registered trademarks or trademarks of Shpoonkle, LLC. in the United States and/or other countries. For more information, contact: info(at)shpoonkle(dot)com or visit: http://www.shpoonkle.com