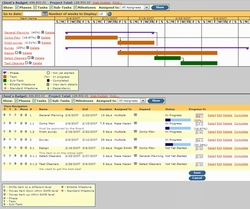 Coupled with AccountEdge, TimeSolv provides a robust solution for attorneys, architects and other professionals who need specialized billing and project management features that go beyond what's found in AccountEdge.
Eagan, MN (PRWEB) October 21, 2008
TimeSolv, a provider of web-based solutions for legal billing and project billing for engineering firms, IT consultants, and health service providers – is now integrated with MYOB AccountEdge. Data from TimeSolv can easily be migrated to MYOB AccountEdge accounting solution.
"We're excited to include TimeSolv in the MYOB Add-On Solutions directory," said Tom Nash, Managing Partner of MYOB US. "Coupled with AccountEdge, TimeSolv provides a robust solution for attorneys, architects and other professionals who need specialized billing and project management features that go beyond what's found in AccountEdge."
TimeSolv applications have been used since 1999 by thousands of users at small to medium sized professional services firms looking for project billing solutions. TimeSolv solutions are ideal for professional services firms faced with a lack of technical resources and the often overwhelming administrative burden of time tracking and billing. TimeSolv offers a convenient way to manage financial matters online at a low monthly cost. Since invoices can be generated and sent electronically with TimeSolv, the system also eliminates paperwork and expedites billing tasks to improve cash flow. By taking advantage of the speed and convenience of the web, TimeSolv helps professionals increase administrative productivity, lower overhead costs, and reduce non-billable hours.
But these are not the only reason to use this proven web-based time and billing solution, the benefits include universal access from anywhere with or without the availability of internet. TimeSolv can be accessed from multiple browsers such as Internet Explorer, Safari, or Firefox on a PC or a MAC. The universal access is coupled with a user based and role based access control to ensure that each user gets the right information and only the information that they would need.
TimeSolv also provides a variety of reports to monitor the pulse of the company's business in real-time. Users can easily see who is billing and to which projects, project tracking against budgets, billable and non-billable time, and details of employee activities on a particular project each day. All the reports can be viewed in HTML, PDF, and MS Excel format. In addition, to ensure that the performance of the firm is on target or that all users have entered their activities and expenses on time, preconfigured reports are automatically emailed per the desired schedule.
TimeSolv has other advantages as well -- no additional hardware to buy or software to install, and no need to worry about IT support, data backups, upgrades, no long term commitments and is fully configured to the companies business needs. Users receive excellent US based toll-free support that can easily answer any questions by using online tools to view customers' information for quick resolution. Invoices can be generated, reviewed and sent seamlessly.
TimeSolv has significantly improved many firms' billing and time tracking practices. Kathy Priest of Priest & Goldstein says: "Priest & Goldstein, PLLC is a boutique IP law firm in Durham, NC (http://www.usiplawgroup.com) providing patent prosecution and technology licensing legal services. We utilize a combination of fixed fee billing as well as billing by the hour. We had been looking for a program to track our time, billings, produce invoices and support clients which use electronic billing for some time. Most of the programs we looked into were too expensive, too big for a small firm or they weren't quite right."
"About a year ago I found TimeSolv's web site and thought I would give the program a try. After reviewing the program details, I could see TimeSolv was the program we had been looking for. We started to implement it the next day. The integration with QuickBooks was very smooth. The support from TimeSolv was timely, efficient and knowledgeable. You can produce professional looking invoices without being a computer wizard. The program comes with plenty of reports. We were also able to easily create LEDES files to support clients who use electronic billing. This makes all the clients happy! We were also very happy with the reasonable cost of the program as well."
"TimeSolv saves me countless hours a month and we have all the reports we need to manage our billings better. The time clocks (timers) are great, no more time lost or not logged. Any law firm that tracks their time and/or bills will be thrilled with TimeSolv. It pays for itself in no time."
About TimeSolv®
TimeSolv has been providing proven time & billing solutions for the professional service firms since 1999. It leverages the internet for increasing operating efficiency with an easy-to-use time & billing system with integrated project management features for increasing your profitability in no time.
TimeSolv is a registered trademark of TimeSolv Corporation.
About MYOB US
MYOB US acts as exclusive US republisher of the award-winning MYOB small business accounting and management and Point of Sale software lines for Macintosh and Windows platforms (http://www.myob-us.com). MYOB US also offers a portfolio of business services that help small business owners to better serve the needs of their customers, their employees, and themselves.
MYOB and the MYOB logo are registered trademarks of MYOB Limited. AccountEdge and FirstEdge are registered trademarks of MYOB Technology Proprietary Limited. Other products mentioned may be trademarks or registered trademarks of their respective companies.
TimeSolv offers a fully functional, 30-day free trial. To learn more about project billing and legal billing solutions, sign up for a free trial by visiting http://www.timesolv.com .
Contact:
TimeSolv Corporation
877-245-5484
651-687-0090
###