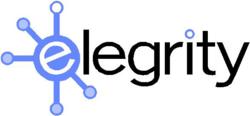 "The Legal Industry requires the transformative agility only Business Process Management provides."
San Francisco, CA (PRWEB) August 22, 2012
Elegrity, Inc., legal industry business process management (BPM) thought leaders and developers of the innovative Law Business Management System (LBMS)™ Platform, will be offering an interactive session at this year's ILTA conference focused on discussing key criteria for achieving true business process transformation with BPM. The ILTA conference will be held at the Gaylord National Resort and Conference Center from August 26 - 30. Elegrity will be conducting the How-To presentation at the National Harbor Conference Center in Chesapeake Demo Room 9 on Thursday, August 30 from 9:00 to 10:00 a.m.
The session will focus on sharing Elegrity's long-term, real-world experience of the key criteria required to achieve the positive, bottom-line results Business Process Management delivers to Law Firms and Corporate Legal departments when done right.
"The Legal Industry requires the transformative agility only Business Process Management provides. For the past decade we have combined our legal industry business acumen and our technology expertise to provide sophisticated enterprise BPM solutions to law firms, corporate legal departments and global corporations. As a direct result of our work, our customers enjoy better profitability, enhanced loss prevention and deepened competitive advantage" said Ms. Joy E. Spicer, President & CEO, Elegrity, Inc.
Elegrity's session will cover from scoping to organizational change management and everything in-between. Real-world, no-hype discussions regarding required technology and what an organization can truly expect from a financial and resourcing perspective are aimed at demystifying BPM projects. Case studies outlining actual deployments and results will be presented. Participants will also be given a framework for business process initiatives and guidelines for determining processes to target for significant impact.
"Elegrity is committed to sharing our legal industry BPM thought leadership with law firms and corporate legal departments internationally. With over 40 legal industry process transformations under our belts already, we aim to unlock the power of BPM for the legal industry through sessions like this one at ILTA's 2012 conference" continued Ms. Spicer.
About Elegrity
Since 1998, Elegrity, Inc. has provided technology consulting and software solutions to Law Firms and Corporate Legal Departments. The firm's consultants help executives and their teams ensure profitability, drive growth, and manage risk by delivering solutions that speed and improve business processes. For more information, visit http://www.elegrity.com.
Legal Notices
Copyright © 2012 Elegrity, Inc. All Rights Reserved. 160 Pine Street, #720, San Francisco, CA. All trademarks, trade names, service marks, and logos referenced herein belong to their respective companies.
Press Contact: Tina Gregory, Office: 415-821-0900; Mobile: 925-381-2974