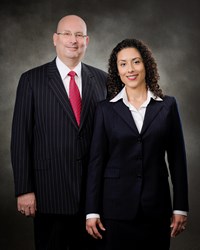 I am proud of the quality of our work and the results we have achieved for our clients.
Atlanta, Georgia (PRWEB) January 16, 2014
Edwin J. Schklar and Maggie M. Heim were recently named to Georgia Trend Magazine's list of Legal Elite for the second consecutive year. The distinction is awarded based upon the voting of other attorneys licensed to practice in the state, and provides a window into who the legal community regards as its most accomplished members.
Schklar, a nationally recognized litigator, attributes the firm's success to each team member's commitment to skillful organization, hard work, meticulous attention to detail, good judgment, a clear understanding of each client's desires and goals, and dedication to achieving those desires and goals. "I am proud of the quality of our work and the results we have achieved for our clients," said Schklar.
Heim is no stranger to recognition for excellence in the practice of law. She was also named one of the state's Rising Stars by Super Lawyers Magazine at the beginning of 2013. She agrees with her partner's assessment of how the firm is able to produce positive outcomes in some of the most difficult litigation. "Edwin founded the firm on a commitment to be far more prepared and willing to work harder than the other side," said Heim. "In the toughest legal battles, the importance of those two traits cannot be overstated."
About Schklar & Heim, LLC: Schklar & Heim, LLC is an AV Rated law firm based in Atlanta, Georgia. The firm is nationally recognized for obtaining superior results in the most complex litigation matters, while providing unmatched attention to detail and client service. The firm routinely handles cases involving business litigation, legal malpractice, securities litigation, real estate disputes, construction law, and intellectual property litigation.