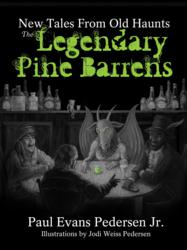 Medford, NJ (PRWEB) June 09, 2013
Plexus Publishing, Inc. announced a slate of events celebrating the June 24 publication of The Legendary Pine Barrens: New Tales From Old Haunts, the latest collection of short stories by Paul Evans Pedersen Jr. The book features 21 new stories by Pedersen along with 17 original illustrations by Jodi Weiss Pedersen. A rogue's gallery of weird and colorful characters appear in tales that run the gamut from offbeat explanations of natural phenomena to unconventional takes on popular legends to strange doings in mysterious Piney towns and taverns.
Kicking off the festivities on Thursday, June 20, Pedersen will sign books at the Noyes Museum in Hammonton from 7–9 PM during the town's Third Thursday celebration. On Saturday, June 22, from 8–9:30 PM, the Pinelands Preservation Alliance (PPA) presents an evening with the author at 17 Pemberton Rd. in Southampton. Pedersen will share stories and songs around the campfire. This event is for kids of all ages and will include refreshments and a marshmallow roast. The cost is $10/person. Call (609) 859-8860, x14 or go to http://www.pinelandsalliance.org/exploration/newtalesoldhaunts.
The fun continues on Sunday, June 23, from 1–4 PM with a free public book launch at the Golden Nugget Tavern in Berlin. The author will sign copies of the book, which will be available at the special price of $10/copy (tax inclusive). Bluegrass music will be provided by Jimmy Heffernan and the Stone Mountain Road Band, and a free buffet is being provided by the Golden Nugget Tavern, located at 433 New Freedom Road in Berlin. For directions, call (856) 809-2695.