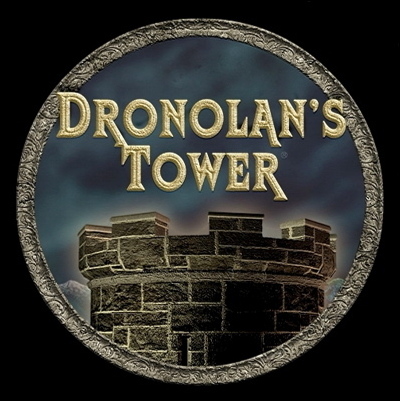 Comments like that have been very encouraging and may have played a role in getting retailers interested in carrying the CD
Studio City, CA (PRWEB) April 9, 2007
Dronolan's Tower announces the imminent world-wide release of "Legends of Kitholan," an album of medieval fantasy mood music specifically tailored to serve the needs of gamers who play pencil and paper role-playing games (RPGs) such as Dungeons and Dragons®.
"Legends of Kitholan" hits music stores and gaming retailers April 25th and is unique in that it is the first such album to feature music recorded by professional Hollywood studio musicians and choral singers. Similar albums by other recording artists have been created purely with computerized synthesizers.
"The live musicians and singers add a great deal of life to this music," says composer David Allen Young, who has written and produced all of the Dronolan's Tower music. "I wanted a sound that would rival blockbuster film soundtracks, and even the best synths and samplers just can't cut it, no matter how good you are with them."
With that in mind, Young (a classically-trained composer) wrote over 64 minutes of medieval fantasy-themed music for full orchestra and choir, recorded the music with professional studio musicians, and "sweetened" the sound with digital techniques designed to impart a larger, fuller sonority.
"The real trick was to take a relatively small number of musicians and singers, and make them sound like a 200-piece ensemble."
When asked precisely how he accomplished this, Young responded coyly, "A magician never reveals his secrets."
Currently, gaming enthusiasts have few options when it comes to music written specifically to meet their needs. Most gamemasters today rely on soundtracks from fantasy movies and video games, but these suffer from over-use and over-familiarity and only cover some of the needs of a traditional paper and pencil game. As a result, gamers are constantly looking for new sources of music to provide a backdrop for their games.
"Gamemasters want something original, that's not already associated with someone else's story and characters. They also want a supply of new music ideal for their purposes and that is what I've endeavored to provide via the Dronolan's Tower project."
"Legends of Kitholan" provides music to cover a broad range of gaming scenarios, including combat, exploration, and those moments where the gamemaster must try to paint a scene with words or introduce a new character to the group.
"Oh my dear God, this is THE music I've been looking for, for ages!" raves Ernest, an 18-year-old fan from South Carolina, on the official Dronolan's Tower MySpace page, which is filled with other such accolades.
"Comments like that have been very encouraging and may have played a role in getting retailers interested in carrying the CD," says Young. "I'm looking forward to seeing how it all pans out. I have a feeling it will be well received by the gaming community."
"Legends of Kitholan Vol. 1" by Dronolan's Tower, hits stores April 25th, 2007, and is available for pre-order at a discount direct from http://www.dronolan.com. A great deal of information, including song previews and cover art samples, is available at the official MySpace page: http://www.myspace.com/dronolan.
Dungeons and Dragons® is a registered trademark of Wizards of the Coast, Inc., a subsidiary of Hasbro, Inc. Dronolan's Tower® and Legends of KitholanTM are trademarks of Forever Young Music LLC.
# # #