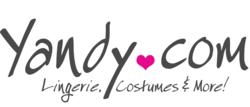 Phoenix, ARIZ. (PRWEB) May 01, 2012
One of the hottest new trends to hit the fashion scene is leggings and at Yandy.com, online retailer of lingerie, costumes, clothing and more, customers will find a variety of new colors, patterns and styles that will fill up their wardrobe without breaking the bank.
With celebrities like Sofia Vergara, Hillary Duff and Rihana donning leggings on a daily basis, every fashionista around is racing to purchase a pair for themselves. At Yandy, shoppers can choose from a variety of new legging styles to suit any fashion need. New, available styles include purple tie dye, black floral print lace leggings, shredded side leggings and cheetah print leggings among many others.
Not only does Yandy offer a wide variety of styles of leggings, but the prices are so affordable, customers can easily pick up one or two... or ten! With prices ranging from as low as $1.95 for basic black fishnet leggings to $21.95 for deluxe stretch metallic leggings in black, gold or silver even the most frugal of shoppers can find something to fit their budget.
In addition, Yandy offers same-day shipping, so customers can rest assured that orders will arrive in a timely manner. Yandy also offers free flat rate shipping on all orders over $70 and a complimentary panty with every order.
About Yandy.com
E-commerce is on the rise and Yandy.com is one of the largest online retailers of lingerie, sexy Halloween costumes, swimwear and clothing on the web. Founded in 2003, Yandy boasts more than 6,500 products always in stock at easily affordable prices. Yandy ensures that every customer will receive a safe, secure and private online shopping experience and is backed by COMODO online security and Google Checkout. Yandy is dedicated to customer service and only sells what is in stock which allows for quick, same day shipping. Offering the highest quality products at the most affordable prices in the market, Yandy has become a leader in ecommerce. Yandy works closely with all of the manufacturers they distribute for and hand select all of the items on the Web site to ensure customers have the largest and most diverse collection to choose from. In addition, the customer service team at Yandy is unrivaled. With attentive and helpful operators, should a question or problem arise, the customer service team at Yandy is always willing and able to assist. At Yandy, every customer can Be Sexy.
###