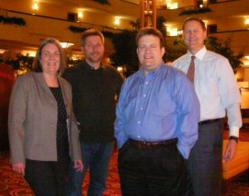 NWYC members participate in Fox News focus group.
Richardson, Texas (Vocus/PRWEB) March 15, 2011
National Write Your Congressman members are accustomed to sharing their opinions with Congress with the help of monthly Opinion Ballots and a direct pipeline to their Congressional representatives through the NWYC website. But thanks to NWYC President Randy Ford, three Wisconsin members had the opportunity to share their opinions with the world via a Fox News prime time television program hosted by Sean Hannity.
Three members were selected to participate: Diane Wonder, Alpha Omega Cleaning; Mark Furst, Grading Spaces Home Inspection; and Jeff Ujazdowski, Jim's Plumbing. "This was the first focus group session I've ever been involved with, and it was entertaining and enlightening. It put me more in tune and feeling more involved in the political process," said Ujazdowski.
Dr. Frank Luntz, author, pollster and TV analyst who has appeared on FOX, MSNBC, ABC and many other news outlets, conducted a live Focus Group on the Sean Hannity program dealing with the political controversy taking place at the State Capitol Building in Madison, Wisconsin.
"I saw this as an opportunity for some of our members to get their opinions heard on national TV," said Randy Ford President and COO of National Write Your Congressman. "We asked our Madison, Wisconsin members if they would like to participate in a live TV focus group and the response was large and immediate."
"The crisis in Wisconsin was very ideologically driven and polarizing," said Diane Wonder. "Of course like the others in the focus group, I wanted to have my say on the issue too. I am grateful for the opportunity to get my views aired even in such a short time."
"These live focus groups are an excellent way for responsible Americans to express their opinions," said Mr. Ford. "Both sides of the issue are heard. That is why we encourage our members to participate."
Mark Furst of Ft. Atkinson, WI said, "I was excited to participate and to be able to voice my opinion in such a large forum."
"We have made arrangements with Dr. Frank Luntz and Fox News for our NWYC members to participate in future focus groups like this one to be held all over the country," said Randy Ford.
About National Write Your Congressman:
NWYC (http://www.nwyc.com) was founded in 1958 as a non-partisan legislative research and membership organization to keep responsible Americans better informed on national and state issues and help them be involved in the legislative, law-making process. Just as our Constitution states, this is democracy in action – by the people.
###