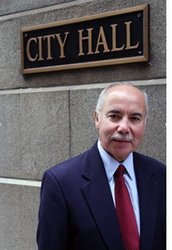 Throughout my career I have fought tirelessly for an open and transparent government.
Chicago, IL (PRWEB) February 22, 2011
As the sixth and final term of Chicago's mayoral icon, Richard M. Daley, comes to a close, the groundwork is being laid for a new era of Chicago politics redefined through open government. Chicago's current City Clerk and mayoral candidate, Miguel del Valle, has been at the forefront of implementing, Legistar®, a new open government software solution that provides public access to all City Council legislative business.
"Throughout my career I have fought tirelessly for an open and transparent government. We've made great strides in this by broadcasting Council meetings online and posting full Council Journals of Proceedings," said del Valle.
"Our new information center gives everyone easy access to track the legislation that matters to them and impacts their community. E-mail alerts and RSS feeds bring our website and the legislative process to you. A participatory government is the cornerstone of our great democracy and for too long it has been difficult and cumbersome to navigate and find legislative information on our City Council. That all changes today."
Open government is cited as a premiere issue for Chicago on the mayoral candidate websites of del Valle, Gery Chico and Rahm Emmanuel. Mayor Daley, by approving this same legislative management and open government solution used in New York City, continues to reshape Chicago government by making it more accountable, open and transparent.
"That's the kind of government the residents of Chicago want, and it's the kind of government that I want," said Mayor Daley.
While the elected officials are excited about the new online openness and connectivity to their constituency found through the new online Legislative Information Center, city staff finds the Legistar implementation to also be a boon to internal efficiency.
"Our old system, while organized and readily available to the public, was unwieldy and could be difficult to navigate," said City Clerk Deputy Director Monica Carranza. "The new system will save our staff countless hours of overtime and is much more user-friendly."
Legistar is a homegrown solution, produced by Chicago company Daystar Computer Systems, Inc. While Legistar has been around for quite some time, the way that Chicago used to operate never quite fit in with the efficiency model that Legistar provides.
"Chicago's growth as a city government and Legistar's growth as an open government solution have reached cohesion that is a real victory for the citizens of Chicago, City Clerk del Valle and Mayor Daley," said Daystar's CEO, Ron Cichon.
Daystar Computer Systems, Inc. has provided legislative and open government solutions to towns, cities, counties and other governmental bodies since 1983. As the most experienced software company in legislative workflow and records management, Daystar helps bring the newest and smartest practices available to municipalities across the country.
Chicago City Clerk Homepage
Chicago's New Legislative Information Center
Chicago's Legislative Information Center Press Release
CONTACT
Chicago Press: City Clerk Miguel del Valle - (312) 744-2507
Legistar Press: Tobias Cichon - (312) 635-0817, pr(at)legistar(dot)com
###