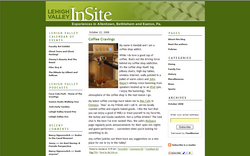 Lehigh Valley, Pa. (Vocus) October 29, 2008
Lehigh Valley Convention and Visitors Bureau, the official tourist promotion agency for the three-city eastern Pennsylvania region, has created a new blog to help inform visitors about the region's many attractions, events and activities.
Titled Lehigh Valley InSite (http://lehighvalley.typepad.com/insite/), the blog is written by staff members of the Bureau based on their own experiences in the area. Biographies and photos of each staff blogger can be viewed in the Pages section of the blog. New posts are published daily and cover a wide range of interests from dining, the arts and family activities, to concerts, sports and wineries. Blog posts are categorized by theme for easy reference. Visitors can link out to the Bureau's Web site to listen to its audio interview podcasts, watch its video podcasts or view a list of upcoming events. An RSS feed is also available for the blog.
The continued popularity of consumer-generated content, especially in the tourism industry, served as the catalyst for the creation of Lehigh Valley InSite. The Bureau intends for it to create dialogues between visitors by providing a forum for them to share input. It also hopes to generate feedback on visitors' trips to the area.
Travelers are encouraged to join in the conversation by reading the blog and replying with comments to posts that interest them by sharing their observations and experiences in Lehigh Valley.
Situated in eastern Pennsylvania, Lehigh Valley is home to the cities of Allentown, Bethlehem and Easton. It is located an hour north of Philadelphia and less than two hours west of New York City.
Lehigh Valley Convention and Visitors Bureau is the designated tourist promotion agency of Lehigh and Northampton counties. Its mission is to develop and promote Lehigh Valley as a leisure destination and as a destination for meetings and conventions for the area's economic benefit. For more information on LVCVB and its activities or to request a Lehigh Valley Map & Guide, call (800) 747-0561, e-mail geninfo@LehighValleyPA.org or visit the official tourism Web site of the Lehigh Valley at http://www.LehighValleyPA.org.
# # #