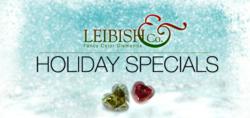 The early bird catches the worm
Tel Aviv, Israel (PRWEB) December 21, 2011
For over 32 years, Leibish & Co. have been at the forefront of the fancy color diamond trade. As purveyors of the finest stones and with an unparalleled reputation for integrity and service, Leibish & Co. have decided to add to the cheer of the holiday season with significant reductions on a wide range of their incomparable stock.
The period from late-December to mid-January is, in most countries, a period permeated with good cheer and festive spirit – a season and feeling that regrettably stays with us for too short a time. Shopping for gifts may be a stressful adventure, but it is done with good intent and a sense of satisfaction as people realize that their temporary frustration is for a higher purpose - to bring long lasting joy for their loved ones.
This state of cheer and acting for a greater good, is one that's held close to the heart of Leibish & Co. Consequently, to do their part in adding to the festive cheer, Leibish & Co. have implemented extensive Holiday Specials across a comprehensive range of their stock – loose colored diamonds and jewelry. It is their small contribution to the joy of the holiday season.
An additional benefit of shopping with Leibish & Co. is that there's no need to face the marauding hordes. Shop from the comfort of your home and enjoy the best that the world of fancy color diamonds has to offer. Leibish & Co. have reduced select stock by a minimum of 10%, with some reductions exceeding 20%. These discounts are coming off Leibish & Co.'s already competitive prices, and will hold until early January, 2012.
However, there are two notes of caution regarding the Leibish & Co. Holiday Specials, of which potential customers must be made aware. The first is probably best summed up by the old adage, "The early bird catches the worm" – Leibish & Co.'s stock is one-of-a-kind and exclusive. Once it is sold, it is gone forever. As for the second note, there is one thing that will never be reduced at Leibish & Co. - their dedication to superlative service.
About Leibish & Co.: Established in 1979, Leibish & Co. is a family business based in the diamond capital of Tel Aviv, Israel. As a pioneer in the fancy color diamond industry, Leibish & Co. were among the first online retailers of fancy color diamonds further facilitating access to this burgeoning market. Their website, http://www.fancydiamonds.net, has further enhanced Leibish & Co.'s reputation for integrity and service.
###