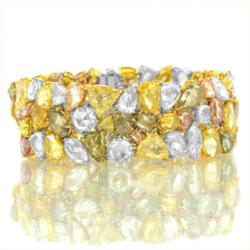 Tutti Frutti' bracelet is its unexpected weightlessness – its size belies its weight. Once on the wrist, the bracelet is surprisingly light and flexible. "It feels like you are wearing an exclusive silk carpet but made of diamonds."
(PRWEB) August 18, 2012
The following quote attributed to the great Isaac Newton, "If I have seen further it is by standing on ye sholders of Giants," has its modern day interpretation in the form of the Leibish & Co.'s 'Tutti Frutti' bracelet.
Cartier created their highly popular and sought after 'Tutti Frutti' range of jewelry after gaining inspiration from India's age-old tradition of engraving colored gemstones with flowers and leaves. Leibish & Co's Chief Designer, Chavi Itzhakov, took her influence from Cartier when she created Leibish & Co.'s version of the Tutti Frutti bracelet. The challenge was to create something at least as beautiful but with Chavi's own individual interpretation.
"I approached this labor of love from a different vantage point," said Chavi. "I realized I had to play to my strengths. Working at Leibish & Co. means that I have access to an unparalleled range of fancy color diamonds. We invested a lot of time in collecting the stones because I wanted to make sure I have a wide range of colors to work with."
Thinking out of the box, Chavi elaborated on her creative impetus. "We can exceed the brilliance of any gemstone with our diamonds but how can I pay homage to the floral engraving of the stones? " The answer was both intuitive and inventive – she would only use Rose Cut diamonds in her creation. The shape of a Rose Cut diamond resembles the petals of a rose bud. The bottom is flat, the crown is dome-shaped, and the facets meet in a point in the center.
The 175mm long multicolored bracelet contains 112 Rose Cut diamonds with a total carat weight of 54.84 carats. Each diamond was individually selected. The selection process took a number of months and the result is an ensemble of multicolored diamonds with various different color combinations. Each diamond is set separately in 18 karat white or yellow gold, depending on its color. Total weight of gold used is 43 grams.
By using only Rose Cut diamonds and setting them with the flat part on the bottom, a stunning depth and uniqueness is achieved. When this effect is coupled with the contrasting elements of a modern style bracelet created from antique style stones, the collage achieved by using a mix of colors and shapes is a hypnotic tour de force.
Another ingenious 'twist' integrated to the Leibish & Co. 'Tutti Frutti' bracelet is its unexpected weightlessness – its size belies its weight. Once on the wrist, the bracelet is surprisingly light and flexible. In the words of Chavi, "It feels like you are wearing an exclusive silk carpet but made of diamonds."
About Leibish & Co.: Established in 1979, Leibish & Co. is a family business based in the diamond capital of Tel Aviv, Israel. As a pioneer in the fancy color diamond industry, Leibish & Co. were among the first online retailers of fancy color diamonds further facilitating access to this burgeoning market. Their website, http://www.fancydiamonds.net, has further enhanced Leibish & Co.'s reputation for integrity and service.