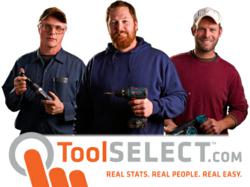 The E7300 is the world's first laser distance meter specified to measure in accordance with ISO 16331-1, the new industry standard developed by an international committee responsible for laser measuring tools
Grand Rapids, MI (PRWEB) May 15, 2012
Leica released two new DISTO™ distance-measuring tools—the E7300 and the E7400x—to give users more durability and accuracy in their acclaimed DISTO™ line. The ToolSelect community, as with all new tools, is quick to review and discuss these new releases.
The E7300 laser measuring tool was designed for simple and precise measurements with a range of 265 feet (200 feet in bright-light conditions) and an accuracy of +/- 1 mm or .04 inches. An improved, illuminated three-line display is incorporated to make results easy to read and clearly structured.
The Leica DISTO™ E7400x uses an integrated 360° tilt sensor that helps the tool simply and precisely determine horizontal distances, even with obstructions in the way. The tilt sensor also makes it possible to measure indirect heights.
"The E7300 is the world's first laser distance meter specified to measure in accordance with ISO 16331-1, the new industry standard developed by an international committee responsible for laser measuring tools," says Tim Commons, vice president and general manager, North America Precision Tools Division. "The durability of the E7400x is unmatched, tested to a six-foot drop, and the IP65 dust and water protection ensures it's tough enough for all construction sites."
Both models include all the standard functions one would expect from a distance-measuring tool like area, volume, Pythagoras two- and three-point measurements and more. The E7400x has a more robust set of features as well as the IP65 protection, and is better suited for a job site, whereas the E7300 is meant for simple, accurate use for day-to-day tasks.
The E7300 and E7400x both come with the tool, a holster, hand loop and two AAA batteries as well as a manual and safety instructions.
"DISTO™ distance-measuring tools have been popular with a lot of people for a long time," says Stephen Glaesman, CEO with ToolSelect. "We're looking forward to seeing what our community has to say about Leica's two latest additions to the line."
About ToolSelect
ToolSelect is an unbiased community powered by its members that covers all aspects, types and brands of tools, but does not actually sell any tools. ToolSelect's members include everyone from experienced tradesmen to complete novices. Users trade tips, compare notes, debate their favorite tools and work together to help each other make intelligent purchasing decisions.
Like ToolSelect on Facebook (ToolSelect)
Subscribe to ToolSelect on YouTube (toolselecttv)
Follow ToolSelect on Twitter (toolselectmedia)