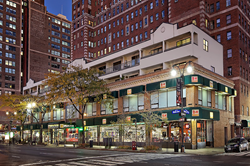 Leica proudly presents the Leica X Vario - a groundbreaking compact camera which combines a
large APS-C format with a zoom lens to offer customers the best possible quality and versatility in a compact digital camera.
NYC, NY (PRWEB) June 11, 2013
The Leica X Vario digital camera incorporates the Vario-Elmar 28-70 mm f/3.5 - 6.4 ASPH lens (35 mm equivalent), and the APS-C CMOS sensor ensures images of unsurpassed brilliance. The size and quality of the sensor means low image noise, high dynamic range, and accurate color differentiation. The wide-angle to telephoto zoom range of the Leica X Vario offers photographers the options for many more creative compositions: indoor scenes, impressive landscapes, or intimate portraits.
The Leica X Vario allows users to change focal length easily and quickly, to spontaneously capture the perfect moment. In addition, the autofocus is fast, extremely precise and virtually silent, while the switch from autofocus to manual focusing is intuitive—simply move the focusing ring on the lens from MF to AF mode.
The Leica X Vario features several significant technical, design and handling characteristics of the Leica M. With the AF Leica Vario Lens offering an equivalent zoom range covering 28–70mm and full-HD video recording, the Leica X Vario expands the creative options for the user, while offering easy and automatic operation.
Benefits at a Glance

Newly developed Vario Lens: Leica Elmar 1:3.5-6.4 (28-70 mm equivalent)
Newly developed APS-C CMOS Sensor, with an effective resolution of 16.1 Megapixels
Iconic design using high-quality materials (milled aluminum top cover)
Simple operations, including manual adjustment options
Precise and fast Auto Focus
Best in class image quality, and full HD video
Connection for high resolution electronic viewfinder,for new photographic perspectives
Versatile accessories
Adobe Photoshop Lightroom, the comprehensive solution for modern digital photography
The camera also offers a full-HD video recording option with 1920 x 1080 pixels, and 30 full frames per second. A video can be made by simply starting and stopping with a single button on the camera's top plate. The full-HD videos can be saved using the MP4 format, and uploaded directly to social media or mobile devices without any conversion. An integrated wind-cut filter ensures outstanding audio clarity.
The design and finish of the Leica X Vario reflects the ultimate in the art of engineering, with attention to detail, using the finest materials. The top plate is machined from solid aluminum, while the magnesium and aluminum body is trimmed with soft leather. The Leica X Vario provides the user with the visual and tactile experience synonymous to Leica.
B&H Photo is a qualified Leica Authorized reseller with the most up-to-date Leica product information, product pricing and individual promotional offers. B&H Photo is currently accepting pre-orders on the Leica X Vario compact digital camera.
Connect with B&H Photo on the web! (Facebook, Twitter, Tumblr, Google+, Pinterest, Flickr, YouTube, B&H Insights & InDepth)
About B&H Photo Video
As the world's largest source of photography, video and audio equipment, B&H Photo-Video is known worldwide for their attentive, knowledgeable sales force, and excellent customer service, including fast, reliable shipping. Visitors to the website can access a variety of enlightening articles and educational videos. B&H has been satisfying customers worldwide for close to 40 years.