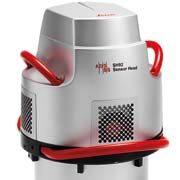 This investment will allow us to better serve the market by operating with increased flexibility, higher productivity, and a competitive cost structure.
(PRWEB) June 21, 2012
Leica Geosystems Inc. today announced that Fugro Horizons Inc. has completed upgrading its four Leica ADS40 airborne digital sensors to the newer Leica ADS80 model. Leica completed the upgrades at its facility in Connecticut, and Fugro has deployed the enhanced sensors for the spring flying season.
"The upgrade enables us to acquire data at higher speeds without losing resolution," said Paul Harwig, President/Managing Director of Fugro Horizons.
A global remote sensing, mapping and GIS services firm based in Rapid City, S.D., Fugro Horizons has used the ADS40 digital sensors in nearly all airborne imaging applications over the past several years. These applications include infrastructure planning, agricultural monitoring, engineering, disaster response, property assessment, water resource management, and others.
"This investment will allow us to better serve the market by operating with increased flexibility, higher productivity, and a competitive cost structure," said Harwig.
The new Leica ADS80 is a large-format digital sensor that offers superior flexibility, productivity, efficiency and reliability. Compared to its ADS40 predecessor, the ADS80 is equipped with a lighter Control Unit with a greater data throughput rate, allowing for acquisition of higher spatial resolution data at faster airspeeds. The minimum ground sample distance attainable has been improved to 5 cm at 140 knots.
"Thanks to the more compact Control Unit with a lighter data storage device, our ADS80 clients are flying the new sensor in smaller, more fuel-efficient aircraft," said Jean Gardiner, General Manager of the Leica Geospatial Solutions.
The ADS80 Sensor Head 81 upgrade chosen by Fugro Horizons provides four times the light sensitivity of the previous model as well as a better signal-to-noise ratio and 10 percent wider spectral bands (red, green, blue, and near infrared). The result is digital imagery that is much crisper than previously available. Other important ADS80 capabilities include perfectly co-registered multispectral bands and true stereo image collection.
Fugro Horizons Inc.
Established in 1968, Fugro Horizons Inc. is a global remote sensing, mapping, and GIS services organization that has built a reputation as one of the largest and most reliable geospatial acquisition firms in the United States with 12 aircraft. Fugro Horizons provides aerial acquisition services that support spatially accurate mapping and GIS products for use in GIS, engineering design, and other land and information management environments to benefit federal, state/local, and private sector clientele.
Leica Geosystems – when it has to be right
With close to 200 years of pioneering solutions to measure the world, Leica Geosystems products and services are trusted by professionals worldwide to help them capture, analyze, and present spatial information. Leica Geosystems is best known for its broad array of products that capture accurately, model quickly, analyze easily, and visualize and present spatial information.
Those who use Leica Geosystems products every day trust them for their dependability, the value they deliver, and the superior customer support. Based in Heerbrugg, Switzerland, Leica Geosystems is a global company with tens of thousands of customers supported by more than 3,500 employees in 28 countries and hundreds of partners located in more than 120 countries around the world. Leica Geosystems is part of the Hexagon Group, Sweden.