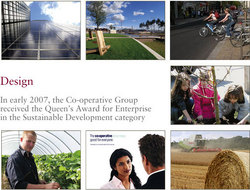 Manchester, Greater Manchester (PRWEB) May 20, 2008
The Co-operative Group's vision for a new Eco-town for Leicestershire was one of the 15 schemes shortlisted by the Government to help meet the national demand for new homes across the UK.
The Co-operative Group, with English Partnerships, have a dynamic vision for Leicestershire's Eco-town - a community designed to bring long-lasting and wide-ranging benefits to the county. The Government has asked the Co-operative to expand on ideas of how an eco-town in Leicestershire would work, what it might look like, and how it would co-exist in the network of surrounding communities. The new website, part of the ongoing programme of community consultation and engagement, will provide more information on The Co-operative Group's ideas for the eco-town as well as encourage people to join the debate.
The UK is facing some serious challenges over the coming decade - not least the need for more homes and combating the threat of climate change. Eco-towns are unique because they will be designed from scratch, to the highest standards, with a particular emphasis on environmental sustainability: conserving energy and water, reducing waste and limiting carbon emissions. They will act as a catalyst for social and economic improvements and will create affordable homes for future generations that are sustainable to live in. As well as homes, the eco-town will have whole infrastructure, public transport, healthcare, shops, schools, leisure facilities, places to work, public squares and parks.
The Co-operative Group is in a unique position to deliver a successful eco-town that will mark a step change to the country's approach to community design and the way we live together.
The Group's green credentials are well established. Co-operative Farms is the largest farmer in the UK, with over 70,000 acres of land, and its historic family of businesses has over 4,000 branches powered by renewable energy.
English Partnerships is the national regeneration agency helping the Government to support high quality sustainable growth, improving quality of life and enhancing the environment through innovation and raising standards.
The Government is proposing up to ten new eco-towns across the UK to help meet the national demand for new homes. The Group's proposals - explained at http://www.ecotownforleicestershire.coop - represents one of a shortlisted 15 locations that are currently being considered. A final list of the locations with the potential to be an eco-town will be published by the Government in late 2008. Successful schemes can then submit planning applications for consideration in the normal way.
Feedback is needed now. The website invites views and comments at: http://www.ecotownforleicestershire.coop/your-views.html
###